Jepara Ourland Park in Jepara Regency, Central Java Province
---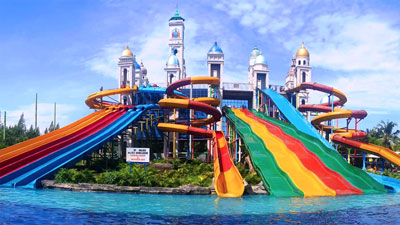 Lots of people claimed that Jepara Ourland Park or JOP as the most complete and largest waterpark in Central Java Province. As the name suggests, the location is in Jepara Regency. It resides near to Mororejo Beach at Bandengan Village. It belongs to Mlonggo Sub-District, actually. Even though JOP is considered a new vacation spot, the number of visitors keeps increasing over time. In the past, after the inauguration, the name was Jepara Ocean Park. Though, it changed after that. In terms of popularity, it is definitely famous! Both local tourists and outsiders recognize it.
The Nuance
Claimed to be the largest and most complete waterpark, JOP indeed offers tons of water rides and facilities to visitors. The inauguration was in 2016 and it applies the mixture of the Middle East and Europe concept. According to the keepers, the total area is about 11 hectares and it is able to accommodate up to 20,000 people! The waterpark even features about 36 water slides! The good thing is the location is near to Mororejo Beach, so the site also provides fun facilities like Jet Ski, banana boat, and much more. In terms of nuance, it is both shady and refreshing. The environment is quite neat too.
Exploring Jepara Ourland Park
It is, without a doubt, Jepara Ourland Park has various types of fun rides and facilities. The most famous ones are motor ships, traditional boats, Jet Ski, banana boats, outbound arena, mini train, paintball, golf car, and Kora-Kora. For those who look for more fun, they can ride the carousel, water jetpacks, and Ferris wheel. More interesting and fun rides are available to use, in fact. So, tourists should explore the waterpark thoroughly later.
Aside from the variety of fun rides, Jepara Ourland Park also comes with complete facilities. These include a locker room, mushola, toilets, parking area, seafood vendors, rest area, hall, gazebos, entertainment stages, souvenir shops, and much more! What is more? Located at the butt end of the waterpark, tourists may find the famous Aladdin Palace. The building becomes the best background to take photos, for sure. Thus, visitors should not forget to carry a camera when visiting the waterpark.
As mentioned before, the location is near to Mororejo Beach. This explains why visitors have an access to rent a motorboat and get around the sea comfortably. As an alternative, they can simply enjoy water sports at the available pools. Many slides and water rides are available for them to use, too! What a complete waterpark!
Nearby Attractions

How to Get There
From Semarang City, tourists need to spend about 2 hours and 6 minutes to reach Jepara Regency. The distance is 78.1 km, but it would be faster if tourists take Kudus – Semarang Street. After arriving at Jepara, their next destination is Bandengan Village at Mlonggo Sub-District where the waterpark resides. The distance is 6.3 km, so the trip may only take about 11 minutes. It can even be faster if tourists choose Raya Tirta Samudra Street.
Where to Stay

Bonanza Hotel
The Palm Beach Resort