Ragas Hill in Jepara Regency, Central Java Province
---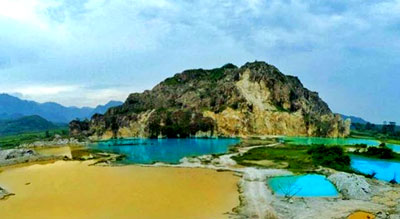 Hills and mountains are the best places to conduct trekking and exploration. However, several hills don't have a specific contour for such activity. It has a unique and majestic appearance, instead. For example, there is Ragas Hill in Jepara Regency. The location is in Clering Village and it belongs to Donorojo Sub-District. The locals also call it Watu Putih Mountain. For the information, the site was once used as a limestone mining. In terms of name, "Watu" means stone while "Putih" means white. The white color is due to the presence of limestone mineral in it, actually. These days, the location becomes a tourists' favorite spot for photography and sightseeing.
The Nuance
Once arriving at Ragas Hill, tourists may see tall white cliffs that look majestic either from near or afar. In front of the hill, a small lake resides. The color of the water is milky blue due to the mixture of limestone and freshwater! No wonder, the pond looks similar to Kelimutu Lake of East Nusa Tenggara Province. Plus, several small plants and bushes grow in that area (adding a beautiful view to the site). In terms of nuance, it is considered peaceful due to the low number of visitors. The only disappointment is that the site doesn't feature facilities and accommodations.
Exploring Ragas Hill
Ragas Hill or Watu Putih Mountain becomes a nice vacation destination in weekends due to both beauty and serenity. The location is in Clering Village, which is known for its peaceful atmosphere, after all. Is that all? Well, visitors have the chance to learn the history and information related to the hill, too. It is said there was a wild-scale mining activity in that area. Knowing the risk to nature, villagers banned the activity forever.
No wonder, tourists won't meet miners in that location anymore. What they can find are the stunning limestone hill and a fabulous lake! These days, therefore, the site becomes a new tourist site and brings a better popularity to both Clering Village and Jepara Regency. People keep coming to the location in order to enjoy several fun activities including sightseeing, photography, relaxation, and exploration. Do not forget they have the chance to learn the history of the hill too.
Not only Ragas Hill is known for its limestone landscape, but it also comes with a stunning lake. As mentioned before, the water gets the mixture of limestone so it looks a little bit milky. Due to the uniqueness, therefore, people often take selfies in front of it! The only disappointment is tourists are not allowed to swim in it.
Nearby Attractions

Puncel Rubber Forest
Pugrok Kedongsari
How to Get There
A trip to Jepara Regency takes approximately 2 hours and 9 minutes, as the distance is 77.6 km. It can be done faster if tourists take Tuban – Semarang Street, though. After getting to Jepara, their next destination is Clering Village at Donorejo Sub-District where the hill is located. They can take Jepara – Bangsri Street to get there. For the information, the distance is 44 km, so the trip takes about 1 hour and 27 minutes.
Where to Stay

Kelet Hotel
Tayu Asri Hotel