Sumenep Waterfall in Jepara Regency, Central Java Province
---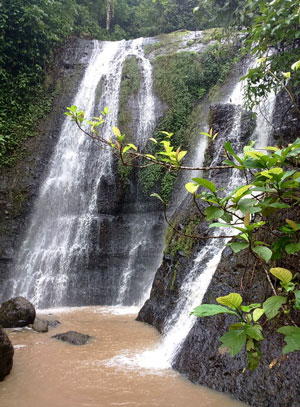 Tons of fabulous waterfalls are available for tourists to visit in Jepara Regency. It seems people need much time to explore them all! In this case, they can start from Sumenep Waterfall. This one is located in Tanjung Village at Pakis Aji Sub-District. It also resides in the valley of Wono Pinus Tourist Site! No wonder, the popularity is good and the number of visitors is high. However, it takes a short trekking in reaching the site. That means tourists must come in a good stamina and carry some supplies like bottled water when heading to the site.
The Nuance
The trekking takes approximately 15 minutes from the checkpoint. Moreover, tourists are able to enjoy the beautiful panoramas including the view of mountains, hills, valleys, and local farms! Thus, everyone must take photos while heading to the waterfall later. What is next? They must pass through both a small river and savanna before arriving at the first Sumenep Waterfall! It is true tourists can find three of them! The second and third one features a more extreme trekking route, though. In this case, tourists should hire a local guide for a more convenient trip.
Exploring Sumenep Waterfall
After exploring the first level of Sumenep Waterfall, tourists should visit the others. As mentioned before, the second and third waterfall has a more difficult route. Thus, tourists need to walk carefully when reaching those locations. Both of those places are good for taking a bath, actually. Not only the size is taller, other waterfalls have a stronger water discharge too. Even tourists can simply sit by them and listen to the soothing gurgling water. It helps them to relax, somehow.
The tall and wide cliff makes Sumenep Waterfall suitable for photography. Tourists only need to stand in front of the waterfall and take some photos either alone or with friends. If they want a better adventure, they should reach the third waterfall, in this case. Perhaps this one has the hardest route to conquer. It is because the waterfall features a steep landscape and cliff. Not to mention tourists may find lots of leeches along the way to the destination. Thus, good footwear is a must!
Despite the difficulty, a trip to the third Sumenep Waterfall is paid off. It looks more astonishing due to the presence of great cliffs that surround the site. As if, the waterfall is protected from any harmful things from outside. It looks pure and beautiful! Do not forget to take some photos while on the site, though.
Nearby Attractions

Mount Muria
Songgo Langit Waterfall
Gantungan Waterfall
Gorge Manten Waterfall
How to Get There
For those coming from the capital of Central Java Province (Semarang City), they may spend about 2 hours and 6 minutes to get to Jepara Regency. It is because the distance is 78.1 km, but the trip becomes faster if tourists take Kudus – Semarang Street. Once arriving at Jepara, their next destination is Tanjung Village at Pakis Aji Sub-District. The distance is only 21 km, so the trip takes around 48 minutes. It can be done faster, in fact, if tourists take Raya Tahunan – Batealit Street. Lastly, they should conduct trekking which may take around 15-20 minutes to the first Sumenep Waterfall.
Where to Stay