Way Kambas
---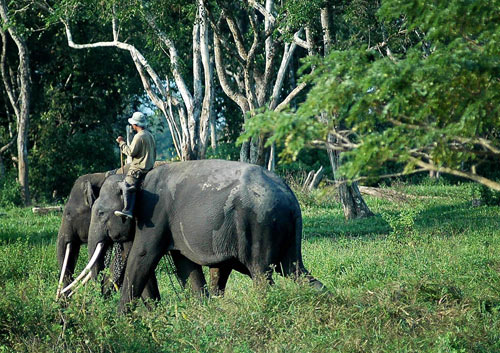 Way Kambas National Park is located in Lampung province, South Sumatra, Indonesia. This national Park is consisting of forest and preservation for Sumatran tigers and elephant sanctuary. This park also becomes a breeding center or Sumatran Rhino Sanctuary (SRS) that has been build up in 1995. Way Kambas National Park is a representative of the lowland forest ecosystem consisting of freshwater swamp forest, meadow grass, and coastal forests in Sumatra.
Plant species that grow in this national park are, api-api (Avicennia marina), Sonneratia (Sonneratia sp.), Palm (Nypa fruticans), Gelam (Melaleuca leucadendron), salam (Syzygium polyanthum), mire (Glochidion borneensis), almond (Terminalia cattapa), sea pine (Casuarina equisetifolia), pandan (Pandanus sp.), puspa (Schima wallichii), meranti (Shorea sp.), oil (Dipterocarpus gracilis), and ramin (Gonystylus bancanus).
Way Kambas National Park has 50 species of mammals such as Sumatran rhino (Dicerorhinus sumatrensis sumatrensis), Sumatran elephant (Elephas maximus sumatranus), Sumatran tiger (Panthera tigris sumatrae), tapir (Tapirus indicus), coyote (Cuon alpinus sumatrensis), gibbon (Hylobates syndactylus syndactylus); 406 forest bird species including ducks (Cairina scutulata), yarn and clothing stork (Ciconia episcopus stormi), stork casks (Leptoptilos javanicus), Crested Fireback (Lophura ignita), Peacock (Argusianus argus argus), Little Cormorant snake ( Anhinga melanogaster); different types of reptiles, amphibians, fish, and insects.
Wild elephants which are trained in the Elephant Training Centre can be used as elephant riding, attractions, transport timber and plow the fields. At the elephant training center, we can see trainers that educate and train wild elephants, we can also see the attraction of elephants playing football, dancing, shaking hands, respectfully, draping flowers, pull the rope, swimming and many other attractions. This elephant training center was established in 1985. Until this day, it has been successful in educating and tame elephants around 290 elephants.
How to get there :
If you are using public transport, the simplest route is taking a bus from Rajabasa Terminal in Bandar Lampung in the direction of Way Jepara. Get off at thestone elephant at Rajabasa Lama Village, Way Jepara, and resume by an "Ojek" or motorbike taxi ride to the Way Kanan or the Elephant Training Centre (ETC), which is the entrance to WKNP. Keep in mind that the last direct bus back to Rajabasa Lama Returns at 15.00 hrs Western Indonesia Time, and it is best if you arrive before dusk, since the "Ojek" driver won't drive you there after this time. The whole trip would take approximately around 2-3 hours. Alternatively, fromBandar Lampung, you can catch a bus to Metro and subsequently another bus to Rajabasa Lama which also last around 2-3 hours.
If you happen to use or rent a car, from Bandar Lampung take the Kota Bumi Road northward and just follow the serial elephant signs that will easily take you to WKNP. It is possible to hire a taxi from Bandar Lampung to Way Kambas but it is considerably more expensive. From Bandarlampung to east Lampung district, the roads are relatively in good condition. However, as you enter Sukadana area the trip will get a little bumpy since some parts of the road are in poor condition. From Way Jepara market to the entrance of WKNP the poorly condition road last for about 5 Km.

Latest News
Lampung, located on the southern tip of Sumatra, only a 45-minute flight from Jakarta, offers a wide array of tourist attractions. Here is a list of 7 destinations to look out for when visiting Lampung: 1. MUTUN BEACH Located in Teluk Betung, Bandar Lampung, Mutun Beach is a family destination with various activities on offer. Visitors can enjoy relaxing on the beach or hire a banana boat for some more fun. As it is located near the city center, the beach is also a popular destination for local residents. Although…
---
For the charm of the beach in Lampung, it has not been fully exposed. Even though the charm of natural beauty offered by the beaches in Lampung is also beautiful like other beaches. Moreover, the beaches in Lampung are directly opposite the Indian Ocean and the southern coast of Sumatra. This is a strong reason why beaches in Lampung can also compete, like these five beaches that are still original. Batu Lapis BeachThis beach is located on Jalan Tanjung Heran Penengahan, Hargo Pancoran Village. This beach can reached from the…
---
Those who love to challenge themselves and hike the highest point must be visit the Pesagi Mt. This mountain is the highest point at West Lampung district and it is located in Belalau district. This mountain area has also been developed as a natural tourist attraction called Pekon Hujung. Pesagi Mt is located in the district of Balik Bukit, Liwa, West Lampung, and this is the highest mountain in Lampung, that reaches a height of 2,262 meters. At the foot of this mountain, it believed as the location of the…
---
Tanjung Putus Island is one of the islands located in the District Pasawaran, Teluk Lampung, Lampung Province. The island is part of Kelagian Island and Pahawang Island. Pulau Tanjung Putus is a gorgeous island with beautiful panorama over the land. The name of Tanjung Putus or Cutting Cape is taken from it supposedly was once the island that united Sumatra Island. However, due to the erosion of some land covered with sea water and become a small strait. Pulau Tanjung Putus has considerable sloping beach. The clear blue sea water…
---