Seminung Mt
---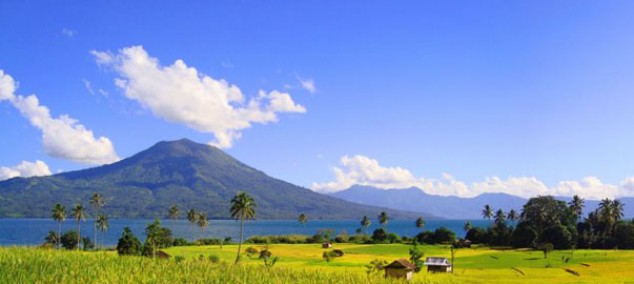 Mount Seminung is in the northwest of the capital district, Liwa with a distance of about 25 kilometers. The mountain is located on the border between the provinces, some of its territory into the Sukau sub-district, West Lampung regency; while others are in the district of Ranau, in the province of South Sumatra. At the foot of the mountain traveler can find the second largest lake on Sumatra Island, Danau Ranau.
Seminung Mountain has an altitude of about 1881 meters above sea level. Even the high is not so high, but it has a great view from the top of the mountain. In addition to edelweiss flowers that can be found at its peak, the view of the lake which stretches over the Mountain will enchant you.
Mount Seminung settled in the two provinces, precisely in the district of South Ranau Warkuk, in South Sumatra provinces and districts Sukau, in Lampung Province. There are several public transport that alternatively you can use to get to the location, either through Lampung, Bengkulu and from Palembang, South Sumatra. If you are traveling from Jakarta and Lampung, you can ride the bus majoring to Simpang Sender Liwa and down to the village of Kotabatu. If you reach from Bengkulu or from Palembang you can take a bus and then changed the route majoring to Baturaja-Simpang Sender and down in the village of Kotabatu.
Generally, to reach the peak of Seminung is can be reached for about two hours climbing. From the location of hot water bath, near to the Mountain, you can walk to the right along the shore of the lake and then begin to enter a path that will continue to the summit. The steep is fairly terrain and it traversed by traversing a coffee plantation that owned by local people. At some locations you will cross the dirt track that has been created ladder by coffee farmers and it will enable you to pass through. If you are lucky, during the hikking you can also hear the sound of animals such as gibbons and chirping birds that are usually heard in the morning.
After climbing about 90 minutes you will arrive at the location where there mushollah building and this is where you can find the last water source. Keep walking about 10 minutes from mushollah then you will arrive at the jungle at an altitude of about 800 meters above sea level.
Through the entrance of the jungle, the vegetation begins with tropical forests situation that will continue until the summit. Arriving at the top of Seminung Mt, you will find a small tin-roofed shack. The location is not so extensive and there are many dry trees blackened by the fires for years ago. Tall grass with bunch of edelweiss flower, is presenting the magnificent view ever.

Latest News
Lampung, located on the southern tip of Sumatra, only a 45-minute flight from Jakarta, offers a wide array of tourist attractions. Here is a list of 7 destinations to look out for when visiting Lampung: 1. MUTUN BEACH Located in Teluk Betung, Bandar Lampung, Mutun Beach is a family destination with various activities on offer. Visitors can enjoy relaxing on the beach or hire a banana boat for some more fun. As it is located near the city center, the beach is also a popular destination for local residents. Although…
---
For the charm of the beach in Lampung, it has not been fully exposed. Even though the charm of natural beauty offered by the beaches in Lampung is also beautiful like other beaches. Moreover, the beaches in Lampung are directly opposite the Indian Ocean and the southern coast of Sumatra. This is a strong reason why beaches in Lampung can also compete, like these five beaches that are still original. Batu Lapis BeachThis beach is located on Jalan Tanjung Heran Penengahan, Hargo Pancoran Village. This beach can reached from the…
---
Those who love to challenge themselves and hike the highest point must be visit the Pesagi Mt. This mountain is the highest point at West Lampung district and it is located in Belalau district. This mountain area has also been developed as a natural tourist attraction called Pekon Hujung. Pesagi Mt is located in the district of Balik Bukit, Liwa, West Lampung, and this is the highest mountain in Lampung, that reaches a height of 2,262 meters. At the foot of this mountain, it believed as the location of the…
---
Tanjung Putus Island is one of the islands located in the District Pasawaran, Teluk Lampung, Lampung Province. The island is part of Kelagian Island and Pahawang Island. Pulau Tanjung Putus is a gorgeous island with beautiful panorama over the land. The name of Tanjung Putus or Cutting Cape is taken from it supposedly was once the island that united Sumatra Island. However, due to the erosion of some land covered with sea water and become a small strait. Pulau Tanjung Putus has considerable sloping beach. The clear blue sea water…
---