Kubur Island
---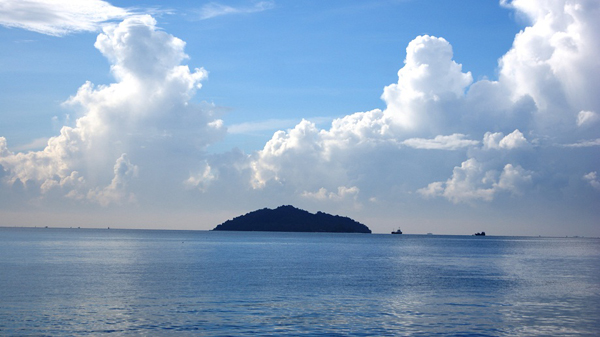 The island is actually a large cluster of coral. The plains of the island are a large rock that surrounded by the ocean and the extensive reef for only 5 hectares. Kubur island is divided in two parts, on one side there is a beach and the other side there is a towering cliff that overlooking the Lampung Bay.
If you love fishing, this island is one of the best spots for fishing, due to the presence of the reef becomes the favorite spot for big fish to congregate. You can rent a motor boat to take you not far from the location of the island, then swing the bait from motor boat to the nearest coral around the island.
The name of Pulau Kubur, or Grave Island is believed by the local society once was an island for spreading the ashes of dead body.
Kubur Island is located in the Gulf of Lampung in Bandar Lampung coastal areas. There is no bridge connecting the island to the mainland of Lampung. Kubur Island is part of west Telok Betong districts and administratively part of Bandar Lampung. The possible way to reach the island is by using motor boat.
The visitors usually come to this island through Pasaran Island, which located around 7 km and it can be reached within 30 minutes by motorboat. Normally, the visitors can reach Kubur Island from Puri Gading beach and Tirtayasa beach for 15 minutes by using motor boat.

Latest News
Lampung, located on the southern tip of Sumatra, only a 45-minute flight from Jakarta, offers a wide array of tourist attractions. Here is a list of 7 destinations to look out for when visiting Lampung: 1. MUTUN BEACH Located in Teluk Betung, Bandar Lampung, Mutun Beach is a family destination with various activities on offer. Visitors can enjoy relaxing on the beach or hire a banana boat for some more fun. As it is located near the city center, the beach is also a popular destination for local residents. Although…
---
For the charm of the beach in Lampung, it has not been fully exposed. Even though the charm of natural beauty offered by the beaches in Lampung is also beautiful like other beaches. Moreover, the beaches in Lampung are directly opposite the Indian Ocean and the southern coast of Sumatra. This is a strong reason why beaches in Lampung can also compete, like these five beaches that are still original. Batu Lapis BeachThis beach is located on Jalan Tanjung Heran Penengahan, Hargo Pancoran Village. This beach can reached from the…
---
Those who love to challenge themselves and hike the highest point must be visit the Pesagi Mt. This mountain is the highest point at West Lampung district and it is located in Belalau district. This mountain area has also been developed as a natural tourist attraction called Pekon Hujung. Pesagi Mt is located in the district of Balik Bukit, Liwa, West Lampung, and this is the highest mountain in Lampung, that reaches a height of 2,262 meters. At the foot of this mountain, it believed as the location of the…
---
Tanjung Putus Island is one of the islands located in the District Pasawaran, Teluk Lampung, Lampung Province. The island is part of Kelagian Island and Pahawang Island. Pulau Tanjung Putus is a gorgeous island with beautiful panorama over the land. The name of Tanjung Putus or Cutting Cape is taken from it supposedly was once the island that united Sumatra Island. However, due to the erosion of some land covered with sea water and become a small strait. Pulau Tanjung Putus has considerable sloping beach. The clear blue sea water…
---