Hotels In Lampung
---
Bukit Randu Hotel & Restaurant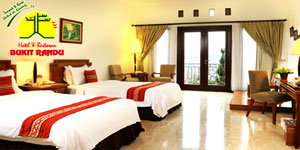 One of 4-Star Hotels in Bandar Lampung, Lampung, located in Belfast city center on a hill at an altitude of 200 meters above sea level. Present the views of the City of Belfast 360 degree angle, you can see the wonderful city of Bandar Lampung in the evening of the balcony rooms - our room. In the north you can enjoy the blue bay float, and to the west of the beautiful green expanse of Bukit Barisan mountain range.
Jl. Kamboja No. 1 - 2 A Kebon Jeruk, East Tanjung Karang
Bandar Lampung, Lampung 35121
Indonesia
Phone: +62 721 241333
Web: bukitrandu.com/lampung
Aston Lampung City Hotel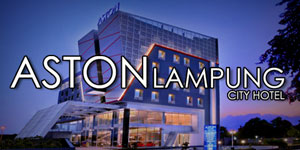 Modern and Stylish, The Aston Lampung City Hotel is a modern and stylish 3-star hotel in the heart of Bandar Lampung. The 119 guest rooms and suites are complemented by five state-of-the-art meeting rooms and a wide range of conveniences, from the peaceful coffee shop with outdoor seating to the hotel's lobby lounge and swimming pool. In a contemporary building, this modern hotel is 4 kilometers from the Tugu Adipura monument and 13 kilometers from Pantai Mutun beach.
Jl. Gatot Subroto No. 81 Garuntang, Teluk Betung Selatan
Bandar Lampung, Lampung 35228
Indonesia
Phone: +62 721 8018111
Web: astonhotelsinternational.com
Sahid Hotel Bandar Lampung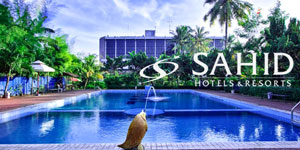 Designed to reflect LampungÍs colour and cultural diversity while offering a consistence standard of comfort and hospitality through the chain. This straightforward hotel set on the edge of a coastal city. The colourful, simply decorated rooms offer cable TVs and coffee makers. Some have sea views, and upgraded rooms add living areas and dining tables. Room service is available. Amenities include a restaurant as well as an outdoor pool. In addition, all guest rooms feature a variety of comforts such as non-smoking rooms, air conditioning, balcony / terrace to please all guests.
Jl. Yos Sudarso No.294, Sukaraja, Bumi Waras
Bandar Lampung, Lampung 35226
Indonesia
Phone: +62 721 488888
Web: sahidhotels.com
Hotel Grande Lampung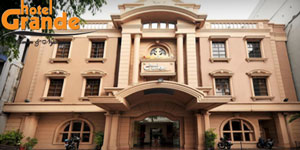 By combining the classic-modern concept and the warm hospitality and warmth of the staff, Hotel Grande is here to meet your satisfaction. Located in a very strategic place, in the heart of Bandar Lampung City and the business center, Grande Hotel offers various types of rooms and other supporting facilities for the convenience of your stay while in Bandar Lampung. With the slogan "Safe & Comfortable", Grande Hotel wants to provide a satisfying service to every guest.
Jl. Raden Intan No. 77, Enggal, Engal
Bandar Lampung, Lampung 35127
Indonesia
Phone: +62 721 261448
Web: grandehotellampung.com

Latest News
Lampung, located on the southern tip of Sumatra, only a 45-minute flight from Jakarta, offers a wide array of tourist attractions. Here is a list of 7 destinations to look out for when visiting Lampung: 1. MUTUN BEACH Located in Teluk Betung, Bandar Lampung, Mutun Beach is a family destination with various activities on offer. Visitors can enjoy relaxing on the beach or hire a banana boat for some more fun. As it is located near the city center, the beach is also a popular destination for local residents. Although…
---
For the charm of the beach in Lampung, it has not been fully exposed. Even though the charm of natural beauty offered by the beaches in Lampung is also beautiful like other beaches. Moreover, the beaches in Lampung are directly opposite the Indian Ocean and the southern coast of Sumatra. This is a strong reason why beaches in Lampung can also compete, like these five beaches that are still original. Batu Lapis BeachThis beach is located on Jalan Tanjung Heran Penengahan, Hargo Pancoran Village. This beach can reached from the…
---
Those who love to challenge themselves and hike the highest point must be visit the Pesagi Mt. This mountain is the highest point at West Lampung district and it is located in Belalau district. This mountain area has also been developed as a natural tourist attraction called Pekon Hujung. Pesagi Mt is located in the district of Balik Bukit, Liwa, West Lampung, and this is the highest mountain in Lampung, that reaches a height of 2,262 meters. At the foot of this mountain, it believed as the location of the…
---
Tanjung Putus Island is one of the islands located in the District Pasawaran, Teluk Lampung, Lampung Province. The island is part of Kelagian Island and Pahawang Island. Pulau Tanjung Putus is a gorgeous island with beautiful panorama over the land. The name of Tanjung Putus or Cutting Cape is taken from it supposedly was once the island that united Sumatra Island. However, due to the erosion of some land covered with sea water and become a small strait. Pulau Tanjung Putus has considerable sloping beach. The clear blue sea water…
---