Krakatau
---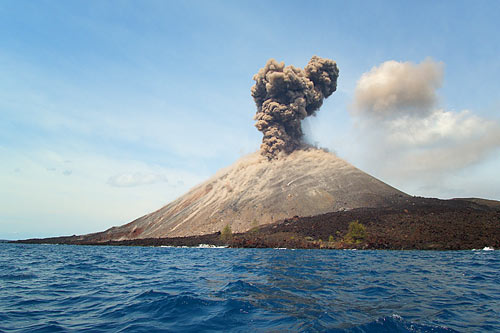 Krakatau is an island volcano along the Indonesian arc, and becomes the much larger island at Sumatra and Java. This mountain was erupted in 1883, and became the largest eruption in recent time. Administratively, the Krakatau Islands are located within the sub-district of Rajabasa, South Lampung, in Lampung Province on Sumatra. But, in fact they form part of the Ujung Kulon, Krakatau National Park, which is recognized by UNESCO as World Heritage site.
In the afternoon of 26th August 1883 Mt. Krakatau suddenly erupted with such cataclysmic force that its boom could be heard in Burma to far away Australia. The next day, the massive volcanic materials blasted so high causing a gaping gash in its crater and the mountain imploded and sank. The boiling sea brought about huge tsunami waves of more than 10 meters high, devastating the towns of Banten and Anyer on Java and Lampung on Sumatra, and wiping out their entire population. The tsunami waves spread throughout the Indian Ocean, and was said to be felt even as far away as France. While Krakatau's volcanic ash was reported to circle the earth's atmosphere, creating spectacular sunsets around the globe for two years.
Krakatau is still active. The presently-active vent has formed a small island in the middle of the ocean-filled caldera that developed during the famous big eruption of 1883. The island is called Anak Krakatau, which means child-of-Krakatau. It is pretty much erupting all the time at a low level, but once or twice a year it has slightly larger eruptions that people notice and sometimes report in the news. Of course none of these are anywhere near the size of the famous 1883 eruption.
Krakatau is following a pattern that is pretty common for volcanoes. This pattern involves hundreds to thousands of years of small eruptions to build up the volcano followed by 1 or more huge eruptions that causes the volcano to collapse into a caldera, and then the cycle starts over again.
As the site of one of the most catastrophic natural disasters in the world, the Krakatau Islands are considered today as a massive natural laboratory. Encompassing a total area of 13.735,10 hectares, they comprise 11.200 hectares of marine reserves and 2.535,10 hectares of land reserves, the Krakatau Islands bear considerable importance to scientists in Geology, Biology and volcanology. For general visitors, nonetheless, the sheer view and incredible history of volcanic activities of the islands are surely something worth travelling for.
How to get there :
The Krakatau Islands are accessible both from the island of Sumatra and Java. From Sumatra the main entry point is Bandar Lampung, the capital of Lampung, while from Java, the nature reserve is accessible from the country's capital Jakarta, through the province of Banten.
From Bandar Lampung :
From Bandar Lampung you can take a bus from Rajabasa or Panjang terminal in the direction of Kalianda, South Lampung districts for approximately 45 minutes. There you can continue your trip by public transportation mini buses (angkutan kota) taking about 10 minutes to Canti Village. Once you are in Canti village, heads to its pier where you can rent a fast boat (Jetfoil) or regular motor boats. If you use a fast boat, the journey will take approximately 90 minutes to get to Krakatau Islands Nature Reserve, while using regular motor boats, the trip will last approximately 150 minutes.
From Jakarta :
The fastest way to get to the islands from Jakarta is by chartered Jetfoil or fast boats or alternately cruise ships from Tanjung Priok Bay straight to the Krakatau Islands. If you are adventurous enough, you can take the public transportation route. Start by taking a bus at the Kalideres Terminal in direction of Merak Harbor in Banten Province which will take roughly about 1.5 hours. From the Merak Harbor you will need to take a ferry across the Sunda Straits that will take you to Bakauheni Harbor on Sumatra. Depending on the weather and traffic conditions, the ferry ride will take about 1 to 2 hours. From The Bakauheni Harbor you can charter public transport that will take you to Port Tanjung Bom. From Tanjung Bom you can find many rented boats that can take you to Sabesi Island as a transit point before heading to Krakatau Island. From Sabesi Island to Krakatau Islands is about a 2 hour boat ride.

Latest News
Lampung, located on the southern tip of Sumatra, only a 45-minute flight from Jakarta, offers a wide array of tourist attractions. Here is a list of 7 destinations to look out for when visiting Lampung: 1. MUTUN BEACH Located in Teluk Betung, Bandar Lampung, Mutun Beach is a family destination with various activities on offer. Visitors can enjoy relaxing on the beach or hire a banana boat for some more fun. As it is located near the city center, the beach is also a popular destination for local residents. Although…
---
For the charm of the beach in Lampung, it has not been fully exposed. Even though the charm of natural beauty offered by the beaches in Lampung is also beautiful like other beaches. Moreover, the beaches in Lampung are directly opposite the Indian Ocean and the southern coast of Sumatra. This is a strong reason why beaches in Lampung can also compete, like these five beaches that are still original. Batu Lapis BeachThis beach is located on Jalan Tanjung Heran Penengahan, Hargo Pancoran Village. This beach can reached from the…
---
Those who love to challenge themselves and hike the highest point must be visit the Pesagi Mt. This mountain is the highest point at West Lampung district and it is located in Belalau district. This mountain area has also been developed as a natural tourist attraction called Pekon Hujung. Pesagi Mt is located in the district of Balik Bukit, Liwa, West Lampung, and this is the highest mountain in Lampung, that reaches a height of 2,262 meters. At the foot of this mountain, it believed as the location of the…
---
Tanjung Putus Island is one of the islands located in the District Pasawaran, Teluk Lampung, Lampung Province. The island is part of Kelagian Island and Pahawang Island. Pulau Tanjung Putus is a gorgeous island with beautiful panorama over the land. The name of Tanjung Putus or Cutting Cape is taken from it supposedly was once the island that united Sumatra Island. However, due to the erosion of some land covered with sea water and become a small strait. Pulau Tanjung Putus has considerable sloping beach. The clear blue sea water…
---