Bandar Lampung
---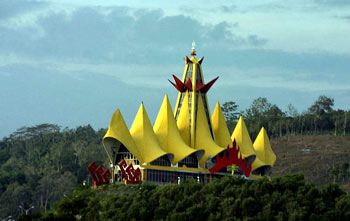 Bandarlampung is the capital and largest city of Lampung; this is the southern-most province on the island of Sumatra. The city acts as an inter-island hub and main gateway to Sumatra from Java. As the fourth largest city in Sumatra, Bandarlampung plays a pivotal role in the development and economic activities of the island.
Located approximately 165 kms northwest of Jakarta, the city is the starting point for visitors before making trips to the Way Kambas National Park, the Bukit Barisan Selatan National Park, the still active remnants of Krakatau Mountain, and many other attractions that found throughout this province.
Bandarlampung is an amalgamation of two separate towns; Tanjungkarang on the hilly areas and Teluk Betung on the coast of Lampung Bay. In 1990, the two towns, along with Panjang area converged into a single integrated city.
Getting around in Bandar Lampung is easy and relatively inexpensive because it is a small city. Traveling between the 2 main areas, (Tanjungkarang to Teluk Betung) will only take about 30-40 minutes by car. If you wish to mingle with the locals, you can try to take a ride in the angkutan kota or angkot, that came with different designated routes for different areas and distinguished by different colors. When you are near your destination, don't forget to shout "Stop Kiri", asking the driver to stop at the left side, so you can get off. For more personal comforts, you can use taxis or Ojek (Motorbike taxies).
How to get there :
By plane
Bandarlampung is accessible by air via the Radin Inten II international airport located at Branti Raya, South Lampung district. The airport was initially built for domestic flights, but since 2008 the airport was officially declared as an international airport that can accommodate large airplanes such as Boeing 737-200, to Boeing 737-500, Airbus A320. Flights to and from Lampung are served by the following airlines from Jakarta and Batam:
Garuda Indonesia (from Jakarta)
Merpati Nusantara Airlines (from Jakarta)
Sriwijaya Air (from Jakarta)
Batavia Air (from Jakarta and Batam)
Saudi Arabian Airlines (Jeddah) for hajj embarkation
Trains
Bandarlampung is fortunate to be one of only two major cities in Sumatra to have fully operating railway systems. The single route train connects Bandarlampung with Palembang in South Sumatra, charging IDR 28,000 for economy class, and IDR 80,000 for executive class. The train leaves daily at 08.30am and 09.00pm from the Tanjung Karang Station.
Buses/Public Transportations
The Rajabasa bus terminal is the main public transportation center of the city. As one of the busiest terminals in Sumatra, the Rajabasa terminal is the destination of inter-provincial buses from Jakarta and other cities in Java. The terminal also connects Bandarlampung with other major cities on the island, such as Palembang,Medan, Pekanbaru and more. Other terminals that can get you through some of the destinations in Bandarlampung are Sukaraja, Kemling, Panjang and Pasar Bawah Terminal.

Latest News
Lampung, located on the southern tip of Sumatra, only a 45-minute flight from Jakarta, offers a wide array of tourist attractions. Here is a list of 7 destinations to look out for when visiting Lampung: 1. MUTUN BEACH Located in Teluk Betung, Bandar Lampung, Mutun Beach is a family destination with various activities on offer. Visitors can enjoy relaxing on the beach or hire a banana boat for some more fun. As it is located near the city center, the beach is also a popular destination for local residents. Although…
---
For the charm of the beach in Lampung, it has not been fully exposed. Even though the charm of natural beauty offered by the beaches in Lampung is also beautiful like other beaches. Moreover, the beaches in Lampung are directly opposite the Indian Ocean and the southern coast of Sumatra. This is a strong reason why beaches in Lampung can also compete, like these five beaches that are still original. Batu Lapis BeachThis beach is located on Jalan Tanjung Heran Penengahan, Hargo Pancoran Village. This beach can reached from the…
---
Those who love to challenge themselves and hike the highest point must be visit the Pesagi Mt. This mountain is the highest point at West Lampung district and it is located in Belalau district. This mountain area has also been developed as a natural tourist attraction called Pekon Hujung. Pesagi Mt is located in the district of Balik Bukit, Liwa, West Lampung, and this is the highest mountain in Lampung, that reaches a height of 2,262 meters. At the foot of this mountain, it believed as the location of the…
---
Tanjung Putus Island is one of the islands located in the District Pasawaran, Teluk Lampung, Lampung Province. The island is part of Kelagian Island and Pahawang Island. Pulau Tanjung Putus is a gorgeous island with beautiful panorama over the land. The name of Tanjung Putus or Cutting Cape is taken from it supposedly was once the island that united Sumatra Island. However, due to the erosion of some land covered with sea water and become a small strait. Pulau Tanjung Putus has considerable sloping beach. The clear blue sea water…
---