Laguna Beach
---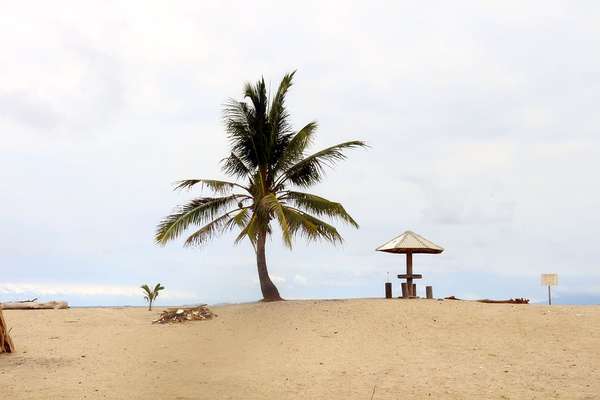 Laguna Helau, is a beach resort in Kalianda, a small fishing town not far from Bakaheuni port, Lampung. Helau Laguna has been designed as a Sumatran fishing village, with natural wooden huts perched on tall columns. It located in a lagoon that over looking the Sunda Strait and the Indian Ocean. The visitors can see the silhouette of Anak Krakatau, which is a subsidiary of the famous volcano, Krakatoa. Laguna Helau has 8 cottages or log cabin that located right on the waterfront. All cootage or the log cabin offers an amazing sight.
Laguna beach is not far from Kiluan Bay's dock. To go to the location, we have to struggle and need to be careful because we have to climbed the hills and over the rocks. We will guided by a local guide and paid the ticket for IDR 3000. By walking, we walked through path among homes and then we climbed and dropped down the hills.
The journey made us a bit tired, but we can be happy because the view is surrounded by chocolate and banana plants. After through the hills, we arrived in the Laguna beach with high waves and white sand then we took short break and some pictures because the scenery is stunningly beautiful.
Having trip to Laguna beach needs special care and attention, because we will crossed the composition of rocks that scattered on the seafront. Not all rock is good to stand on, so we should choose the right path. However, the trip will be easier if you go together with friend or guide who already knows the location. It is adviseable to use a comfortable shoes to cross over the rocks. Do not forget to bring a bottle of water and snacks because when you feel tired and hungry, there is no minimarket or stalls available.

Latest News
Lampung, located on the southern tip of Sumatra, only a 45-minute flight from Jakarta, offers a wide array of tourist attractions. Here is a list of 7 destinations to look out for when visiting Lampung: 1. MUTUN BEACH Located in Teluk Betung, Bandar Lampung, Mutun Beach is a family destination with various activities on offer. Visitors can enjoy relaxing on the beach or hire a banana boat for some more fun. As it is located near the city center, the beach is also a popular destination for local residents. Although…
---
For the charm of the beach in Lampung, it has not been fully exposed. Even though the charm of natural beauty offered by the beaches in Lampung is also beautiful like other beaches. Moreover, the beaches in Lampung are directly opposite the Indian Ocean and the southern coast of Sumatra. This is a strong reason why beaches in Lampung can also compete, like these five beaches that are still original. Batu Lapis BeachThis beach is located on Jalan Tanjung Heran Penengahan, Hargo Pancoran Village. This beach can reached from the…
---
Those who love to challenge themselves and hike the highest point must be visit the Pesagi Mt. This mountain is the highest point at West Lampung district and it is located in Belalau district. This mountain area has also been developed as a natural tourist attraction called Pekon Hujung. Pesagi Mt is located in the district of Balik Bukit, Liwa, West Lampung, and this is the highest mountain in Lampung, that reaches a height of 2,262 meters. At the foot of this mountain, it believed as the location of the…
---
Tanjung Putus Island is one of the islands located in the District Pasawaran, Teluk Lampung, Lampung Province. The island is part of Kelagian Island and Pahawang Island. Pulau Tanjung Putus is a gorgeous island with beautiful panorama over the land. The name of Tanjung Putus or Cutting Cape is taken from it supposedly was once the island that united Sumatra Island. However, due to the erosion of some land covered with sea water and become a small strait. Pulau Tanjung Putus has considerable sloping beach. The clear blue sea water…
---