Pesagi Mountain
---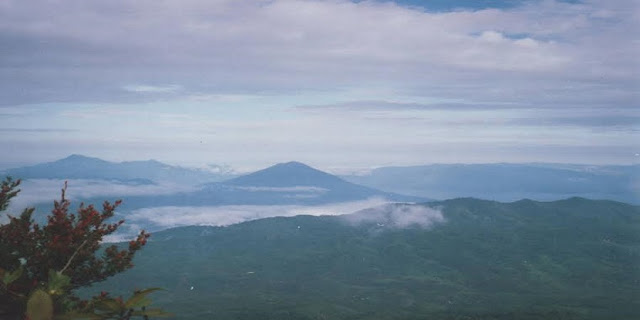 Those who love to challenge themselves and hike the highest point must be visit the Pesagi Mt. This mountain is the highest point at West Lampung district and it is located in Belalau district. This mountain area has also been developed as a natural tourist attraction called Pekon Hujung. Pesagi Mt is located in the district of Balik Bukit, Liwa, West Lampung, and this is the highest mountain in Lampung, that reaches a height of 2,262 meters. At the foot of this mountain, it believed as the location of the Sekala Brak Kingdom, which is the forerunner of Lampung ethnic descent.
Inside the Pekon Hujung travelers can climb to the summit of Pesagi Mountain and enjoying the natural beauty at West Lampung from the highest point. In this area, there is available a traditional homestay with adequate facilities for visitors who are interested in staying overnight in the mountain.
The top of Pesagi Mt is fabulous; the height of this mountain reaches 2,200 meters above sea level. The beauty and originality of the nature around Pesagi still awake, and make this as special attraction. From the top of this mountain, the visitors can enjoy the beauty of West Lampung, Ranau Lake, OKU community settlement, Krui high seas, and Belimbing high seas. The privileged of Pesagi summit is has challenging hiking trail.
In the stepped area there are many interesting plants such diverse species of orchids and a variety of wild life like birds and wild animals. Anyone who passing this area is forbidden to take and flowers or other plants, and let alone the animals free. All visitors must save the environment well and should not be littering during the journey.
It said that at the peak of Pesagi Mt, there are seven wells, one of which sometimes emits a smell like perfume. Not everyone can get the water from the well. According to the local residents, only the climbers' whit "clean heart" will get it. Those who are not environmentally friendly or do not have good intentions, will not get the water out of the well. Pesagi peaks found in the area of Pekon Hujung or Pekon Village, District Belalau, West Lampung.
To reach the top of Pesagi Mt, there are two routes that can be taken; the first alternative, visitors can walk from Pekon Bahway, and it will ending in Pekon Hujung. This trajectory requires the normal time of 12 hours round trip by foot. The second alternative is by starts and ends the route from Pekon Hujung, with the same estimated time of 12 hours according to the good climate.

Latest News
Lampung, located on the southern tip of Sumatra, only a 45-minute flight from Jakarta, offers a wide array of tourist attractions. Here is a list of 7 destinations to look out for when visiting Lampung: 1. MUTUN BEACH Located in Teluk Betung, Bandar Lampung, Mutun Beach is a family destination with various activities on offer. Visitors can enjoy relaxing on the beach or hire a banana boat for some more fun. As it is located near the city center, the beach is also a popular destination for local residents. Although…
---
For the charm of the beach in Lampung, it has not been fully exposed. Even though the charm of natural beauty offered by the beaches in Lampung is also beautiful like other beaches. Moreover, the beaches in Lampung are directly opposite the Indian Ocean and the southern coast of Sumatra. This is a strong reason why beaches in Lampung can also compete, like these five beaches that are still original. Batu Lapis BeachThis beach is located on Jalan Tanjung Heran Penengahan, Hargo Pancoran Village. This beach can reached from the…
---
Those who love to challenge themselves and hike the highest point must be visit the Pesagi Mt. This mountain is the highest point at West Lampung district and it is located in Belalau district. This mountain area has also been developed as a natural tourist attraction called Pekon Hujung. Pesagi Mt is located in the district of Balik Bukit, Liwa, West Lampung, and this is the highest mountain in Lampung, that reaches a height of 2,262 meters. At the foot of this mountain, it believed as the location of the…
---
Tanjung Putus Island is one of the islands located in the District Pasawaran, Teluk Lampung, Lampung Province. The island is part of Kelagian Island and Pahawang Island. Pulau Tanjung Putus is a gorgeous island with beautiful panorama over the land. The name of Tanjung Putus or Cutting Cape is taken from it supposedly was once the island that united Sumatra Island. However, due to the erosion of some land covered with sea water and become a small strait. Pulau Tanjung Putus has considerable sloping beach. The clear blue sea water…
---