Condong Island
---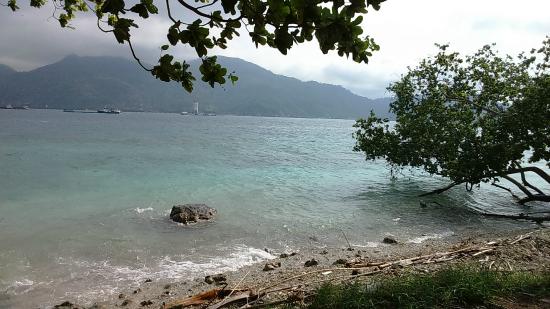 Pulau Condong or Condong Island is also popular by the name of Condong Sulah Island, it located 1 km from bypass route of Bandar Lampung- Bakauheni. The island has genuine look, with the cone-like dome shape, which the entire surface covered by the hill slopes and forest vegetation, such as merbau trees, hibiscus, ketapan, and so forth.
At the southern part of the island is like being split and it can be used for rock climbing, hiking and outdoor sports that challenge the adrenalin. Around the region of Condong Sulah, Condong Darat and Condong Laut is being used for swimming and diving practice. You will like to linger on the beach lip because the water is very clear, so we can see the underwater plants and animal from the surfaces.
You can swim, snorkeling, diving, and outbound training at this place. Even if you are love extreme sports, you can also do rock climbing in this place, and seeing wild monkeys foraging around the island.
The place is quite romantic if you want to ask your love one to see the sunset from the natural tunnel on the west side of the island. The bright yellow sky from the sun that set down will be the perfect moment to say love and even to throw the proposal.
All of the above makes Condong Island becomes a favorite destination from local travelers or outside the town who want to spend the holidays or a weekend with friends and family.

Latest News
Lampung, located on the southern tip of Sumatra, only a 45-minute flight from Jakarta, offers a wide array of tourist attractions. Here is a list of 7 destinations to look out for when visiting Lampung: 1. MUTUN BEACH Located in Teluk Betung, Bandar Lampung, Mutun Beach is a family destination with various activities on offer. Visitors can enjoy relaxing on the beach or hire a banana boat for some more fun. As it is located near the city center, the beach is also a popular destination for local residents. Although…
---
For the charm of the beach in Lampung, it has not been fully exposed. Even though the charm of natural beauty offered by the beaches in Lampung is also beautiful like other beaches. Moreover, the beaches in Lampung are directly opposite the Indian Ocean and the southern coast of Sumatra. This is a strong reason why beaches in Lampung can also compete, like these five beaches that are still original. Batu Lapis BeachThis beach is located on Jalan Tanjung Heran Penengahan, Hargo Pancoran Village. This beach can reached from the…
---
Those who love to challenge themselves and hike the highest point must be visit the Pesagi Mt. This mountain is the highest point at West Lampung district and it is located in Belalau district. This mountain area has also been developed as a natural tourist attraction called Pekon Hujung. Pesagi Mt is located in the district of Balik Bukit, Liwa, West Lampung, and this is the highest mountain in Lampung, that reaches a height of 2,262 meters. At the foot of this mountain, it believed as the location of the…
---
Tanjung Putus Island is one of the islands located in the District Pasawaran, Teluk Lampung, Lampung Province. The island is part of Kelagian Island and Pahawang Island. Pulau Tanjung Putus is a gorgeous island with beautiful panorama over the land. The name of Tanjung Putus or Cutting Cape is taken from it supposedly was once the island that united Sumatra Island. However, due to the erosion of some land covered with sea water and become a small strait. Pulau Tanjung Putus has considerable sloping beach. The clear blue sea water…
---