Walur Beach
---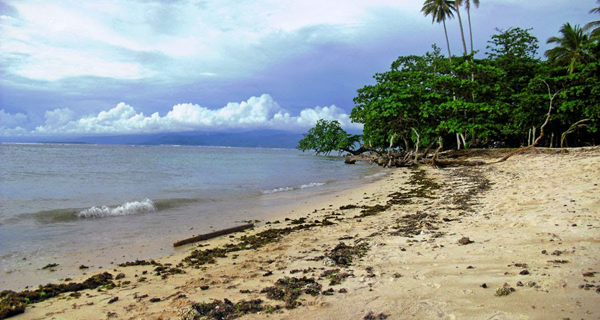 Walur beach is situated in the west coast of Lampung, near to Krui town and it located in the dense forest of Bukit Barisan Selatan National Park. A beach with good pictureque with vast stretches of white sand that directly facing the open Indian Ocean. The beach is located at Walur Village, Pesisir Tengah district, Pesisir Barat Regency, Lampung.
An interesting fact about Walur Beach is taken from the continuation of the swathes of sand that are the Labuhan Jukung and Way Redak Beaches that highlight the western coast of Lampung. The three beaches are connected to one another through an asphalt road that is off the main road between the towns of Krui and Liwo.
The situation in Walur beach is typical to the tropical beach with shady nuance along the row lines of coconut tress that growing on green grassy fields, accompanied by the soft breeze that just like welcoming you to its enchanting ambience. The shore is features soft white sand that perfectly match for allkinds of fun beach activities.
The water at this beach is clear and the waves relatively calm, making this a perfect place to swim. The beach is ideal for a family vacation, where all members of the family can have a good time together and away from the bustling day for awhile. As the sun sets in the afternoon, the nature also displays some of its magnificent panorama at Walur Beach.
To reach this beach From Bandar Lampung, is about 250 km away or it takes 4-5 hours drive to Krui, capital town of the Pesisir Barat Regency. While from the town of Krui, Walur Beach is only about 5 km ahead.
Aside from the beautiful scenery, the waters of Walur Beach are also teeming with many kinds of fish that draw anglers. There is also a lighthouse where you can observe the beauty of the beach and its surroundings from above. During weekends or public holidays, the beach usually fills with locals and their families carrying picnic baskets, mats, and recreational stuff.
However, the beach is vast enough to accommodate everyone, so you do not need to worry about lack of space. For kids, building sandcastles or just splashing around in shallow water of the beach is truly a rewarding experience. While those who simply want to enjoy nature, lieback on the soft sands with the gentle breeze indulging your body, making this simply a gorgeous place to spend the weekend.

Latest News
Lampung, located on the southern tip of Sumatra, only a 45-minute flight from Jakarta, offers a wide array of tourist attractions. Here is a list of 7 destinations to look out for when visiting Lampung: 1. MUTUN BEACH Located in Teluk Betung, Bandar Lampung, Mutun Beach is a family destination with various activities on offer. Visitors can enjoy relaxing on the beach or hire a banana boat for some more fun. As it is located near the city center, the beach is also a popular destination for local residents. Although…
---
For the charm of the beach in Lampung, it has not been fully exposed. Even though the charm of natural beauty offered by the beaches in Lampung is also beautiful like other beaches. Moreover, the beaches in Lampung are directly opposite the Indian Ocean and the southern coast of Sumatra. This is a strong reason why beaches in Lampung can also compete, like these five beaches that are still original. Batu Lapis BeachThis beach is located on Jalan Tanjung Heran Penengahan, Hargo Pancoran Village. This beach can reached from the…
---
Those who love to challenge themselves and hike the highest point must be visit the Pesagi Mt. This mountain is the highest point at West Lampung district and it is located in Belalau district. This mountain area has also been developed as a natural tourist attraction called Pekon Hujung. Pesagi Mt is located in the district of Balik Bukit, Liwa, West Lampung, and this is the highest mountain in Lampung, that reaches a height of 2,262 meters. At the foot of this mountain, it believed as the location of the…
---
Tanjung Putus Island is one of the islands located in the District Pasawaran, Teluk Lampung, Lampung Province. The island is part of Kelagian Island and Pahawang Island. Pulau Tanjung Putus is a gorgeous island with beautiful panorama over the land. The name of Tanjung Putus or Cutting Cape is taken from it supposedly was once the island that united Sumatra Island. However, due to the erosion of some land covered with sea water and become a small strait. Pulau Tanjung Putus has considerable sloping beach. The clear blue sea water…
---