Tour Garden Bumi Kedaton - Batu Putuk
---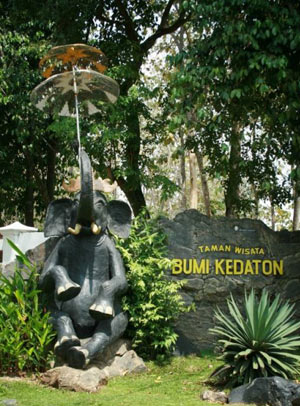 Lampung has long been as the Land of Elephants and Way Kambas as the best known as elephant training center. But don't imagine that getting there is easy these days. Getting to the National Park takes at least two hours from the center of town, on a road in terrible condition. This trip is only for the truly adventurous, or tourists with a lot of time on theirs hands. But don't worry - now there's Taman Wisata Bumi Kedaton (Bumi Kedaton Tourism Park), located in Batu Putuk area, only 20 minutes from the center of Bandar Lampung. This park had created especially to make it easy for tourists, and the local people of Lampung, to enjoy a family holiday with Sumatra's favorite beasts.
This tourism object has built on 9 hectares area, Bumi Kedaton is like a miniature zoo, with various animal attraction: bears, porcupines, many types of bird, and monkeys. The park is only 75% complete at the moment, but soon it will also feature a crocodile park. Visitors can also see pythons and king cobras, horses performing material arts, and of course the perennial favorite, the elephants.
We can also ride an elephant while trekking up the river. So next time if visit Lampung, take the time to have an adventure with the elephants. The park also offers accommodation in 3-bedroom bungalow in traditional Lampung style.
Way Kambas National Park is the area of raining forest that has 126.000 ha areas. And geographically is located between 4° 37 LS - 5° 16 LU and 105°54 BT, and the highest by 0 - 60 m dpl and the average of raindrops is about 2000 mm/year.
It is about 35 km from Sukadana city. It is easily accessible from Bandar Lampung or Sukadana. It is well known throughout the countries, and it has some interested tourism object too, tourism such as: Elephant training centre, Way Kanan Resort, and Suaka Rhino Sumatera.

Latest News
Lampung, located on the southern tip of Sumatra, only a 45-minute flight from Jakarta, offers a wide array of tourist attractions. Here is a list of 7 destinations to look out for when visiting Lampung: 1. MUTUN BEACH Located in Teluk Betung, Bandar Lampung, Mutun Beach is a family destination with various activities on offer. Visitors can enjoy relaxing on the beach or hire a banana boat for some more fun. As it is located near the city center, the beach is also a popular destination for local residents. Although…
---
For the charm of the beach in Lampung, it has not been fully exposed. Even though the charm of natural beauty offered by the beaches in Lampung is also beautiful like other beaches. Moreover, the beaches in Lampung are directly opposite the Indian Ocean and the southern coast of Sumatra. This is a strong reason why beaches in Lampung can also compete, like these five beaches that are still original. Batu Lapis BeachThis beach is located on Jalan Tanjung Heran Penengahan, Hargo Pancoran Village. This beach can reached from the…
---
Those who love to challenge themselves and hike the highest point must be visit the Pesagi Mt. This mountain is the highest point at West Lampung district and it is located in Belalau district. This mountain area has also been developed as a natural tourist attraction called Pekon Hujung. Pesagi Mt is located in the district of Balik Bukit, Liwa, West Lampung, and this is the highest mountain in Lampung, that reaches a height of 2,262 meters. At the foot of this mountain, it believed as the location of the…
---
Tanjung Putus Island is one of the islands located in the District Pasawaran, Teluk Lampung, Lampung Province. The island is part of Kelagian Island and Pahawang Island. Pulau Tanjung Putus is a gorgeous island with beautiful panorama over the land. The name of Tanjung Putus or Cutting Cape is taken from it supposedly was once the island that united Sumatra Island. However, due to the erosion of some land covered with sea water and become a small strait. Pulau Tanjung Putus has considerable sloping beach. The clear blue sea water…
---