Curup Tujuh Waterfall
---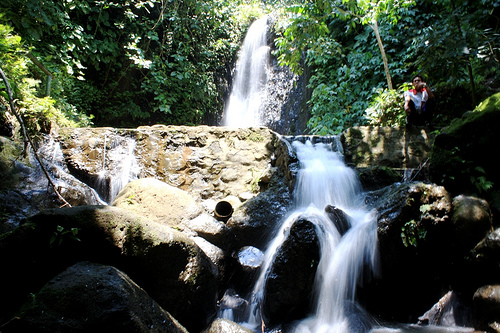 Margajaya village in Lampung has a stunning natural beauty. The village is located in Central Lampung that most of the inhabitants are farmers and teachers. In addition to its natural attractions, the agro tourism is also abundantly wealthy.
Curug Tujuh Waterfall is one of the natural attractions in the Margajaya village, District Selagai Lingga, Central Lampung. The name curug Tujuh or seven waterfall is taken from the waterfall has seven levels, that reached 75 meters high.
To go to Curug Tujuh is can be reached within 2 hours from Mount Sugih by using four wheel drive vehicles and two-wheeler. Actually, to reach the location we can use four-wheel vehicle, but since the road is bumpy then it is not allowed to use a car. But for you who do not want to be too tired walking to the location, there is bike trail to be provided to go to the location. Having a trip to Curug Tujuh will becomes the great experience to refresh our mind from the busy activities in town, since it has great view and edventurous route.
After having the jungle track for about 15 minutes from Curug Satu or the first level of the waterfall, we come to Curug Tujuh. The water that slide for approximately 30 meters in sight, gives its flirting splash of that sparkling water. If the sunlight radiating the sparkling water, there will be rainbow pouring down and showing up the beauty of serenity.
It said that, the beauty of Curup Tujuh is comparing to Curup Maung that located in Palembang, South Sumatra. From both locations, those waterfalls have the same way to access the location, which is by passing the jungle track.

Latest News
Lampung, located on the southern tip of Sumatra, only a 45-minute flight from Jakarta, offers a wide array of tourist attractions. Here is a list of 7 destinations to look out for when visiting Lampung: 1. MUTUN BEACH Located in Teluk Betung, Bandar Lampung, Mutun Beach is a family destination with various activities on offer. Visitors can enjoy relaxing on the beach or hire a banana boat for some more fun. As it is located near the city center, the beach is also a popular destination for local residents. Although…
---
For the charm of the beach in Lampung, it has not been fully exposed. Even though the charm of natural beauty offered by the beaches in Lampung is also beautiful like other beaches. Moreover, the beaches in Lampung are directly opposite the Indian Ocean and the southern coast of Sumatra. This is a strong reason why beaches in Lampung can also compete, like these five beaches that are still original. Batu Lapis BeachThis beach is located on Jalan Tanjung Heran Penengahan, Hargo Pancoran Village. This beach can reached from the…
---
Those who love to challenge themselves and hike the highest point must be visit the Pesagi Mt. This mountain is the highest point at West Lampung district and it is located in Belalau district. This mountain area has also been developed as a natural tourist attraction called Pekon Hujung. Pesagi Mt is located in the district of Balik Bukit, Liwa, West Lampung, and this is the highest mountain in Lampung, that reaches a height of 2,262 meters. At the foot of this mountain, it believed as the location of the…
---
Tanjung Putus Island is one of the islands located in the District Pasawaran, Teluk Lampung, Lampung Province. The island is part of Kelagian Island and Pahawang Island. Pulau Tanjung Putus is a gorgeous island with beautiful panorama over the land. The name of Tanjung Putus or Cutting Cape is taken from it supposedly was once the island that united Sumatra Island. However, due to the erosion of some land covered with sea water and become a small strait. Pulau Tanjung Putus has considerable sloping beach. The clear blue sea water…
---