Tanjung Setia Beach
---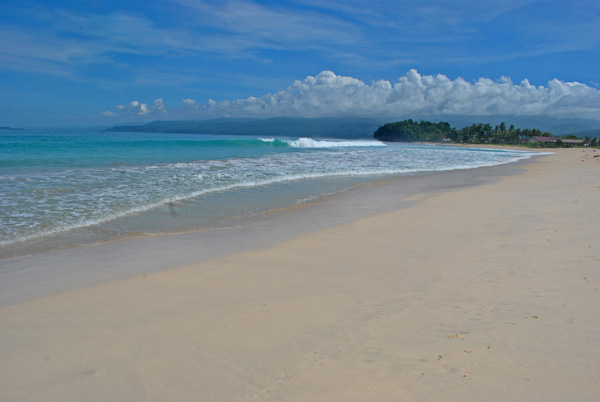 Tanjung setia is a beach that settled secludedly along the western coast of Lampung, beyond the thick forests of the Bukit Barisan Selatan National Park. Although obscured from spotlights, the waves at Tanjung Setia are touted as among the world's best by surfers from worldwide, and some said that this place is comparable with the world famous surf of Hawaii.
Tanjung Setia is located in some 273 kms or about 6-7 hours driving from the province's capital Bandar Lampung; administratively in the Tanjung Setia Village of the West Lampung district, the Tanjung Setia Beach lies directly in the path of the large Indian Ocean currents that enhance it with constant fascinating waves. Nonetheless, the beach itself has yet to attain the kind of fame in the international circuit, as have its counterparts in Bali or Lombok.
Tanjung Setia is a beach with kind of virgin condition and it has some stunning natural beauty. The soft white sandy beaches that stretch from shore to shore and breathtaking sunsets that offers their own fascinating attractions next to the challenging waves. The shores in Tanjung Setia Beach are also decorated with lush palm trees that give it a picturesque landscape and relaxing ambience as one waits for the perfect waves. The diving sites here are also legendary among dive fanatics, although nowhere near as popular as their counterparts in Manado or in Bali, for sure.
By the un-spoilt beauty and strategically in secluded location, the term hidden pearl is suits this pristine beach perfectly. The indulging waters and challenging waves that combined with relaxing un-crowded beaches make this a perfect destination both for adrenalin-pumping junkies and getaway seekers.
How to get there :
Located within the Tanjung Setia Village, Pesisir Selatan of the West Lampung district, this enchanting beach is situated some 52 kms away from the district's Capital Liwa in the direction of Krui, and 273 kms or some 6-7 hours' drive from the province's capital Bandar Lampung.
If you wish to take public transportation you can take the Krui Putra bus from Rajabasa Terminal at Bandarlampung that passes through the Trans Sumatra Highway, and stops directly at Tanjung Setia Beach. The bus will charge around IDR 40,000 to IDR 50,000. Along the way, you will be presented with some of the stunning sceneries of Bukit Barisan Mountain ridge with slopes and winding turns on relatively smooth roads.

Latest News
Lampung, located on the southern tip of Sumatra, only a 45-minute flight from Jakarta, offers a wide array of tourist attractions. Here is a list of 7 destinations to look out for when visiting Lampung: 1. MUTUN BEACH Located in Teluk Betung, Bandar Lampung, Mutun Beach is a family destination with various activities on offer. Visitors can enjoy relaxing on the beach or hire a banana boat for some more fun. As it is located near the city center, the beach is also a popular destination for local residents. Although…
---
For the charm of the beach in Lampung, it has not been fully exposed. Even though the charm of natural beauty offered by the beaches in Lampung is also beautiful like other beaches. Moreover, the beaches in Lampung are directly opposite the Indian Ocean and the southern coast of Sumatra. This is a strong reason why beaches in Lampung can also compete, like these five beaches that are still original. Batu Lapis BeachThis beach is located on Jalan Tanjung Heran Penengahan, Hargo Pancoran Village. This beach can reached from the…
---
Those who love to challenge themselves and hike the highest point must be visit the Pesagi Mt. This mountain is the highest point at West Lampung district and it is located in Belalau district. This mountain area has also been developed as a natural tourist attraction called Pekon Hujung. Pesagi Mt is located in the district of Balik Bukit, Liwa, West Lampung, and this is the highest mountain in Lampung, that reaches a height of 2,262 meters. At the foot of this mountain, it believed as the location of the…
---
Tanjung Putus Island is one of the islands located in the District Pasawaran, Teluk Lampung, Lampung Province. The island is part of Kelagian Island and Pahawang Island. Pulau Tanjung Putus is a gorgeous island with beautiful panorama over the land. The name of Tanjung Putus or Cutting Cape is taken from it supposedly was once the island that united Sumatra Island. However, due to the erosion of some land covered with sea water and become a small strait. Pulau Tanjung Putus has considerable sloping beach. The clear blue sea water…
---