Batu Brak Megalith Site
---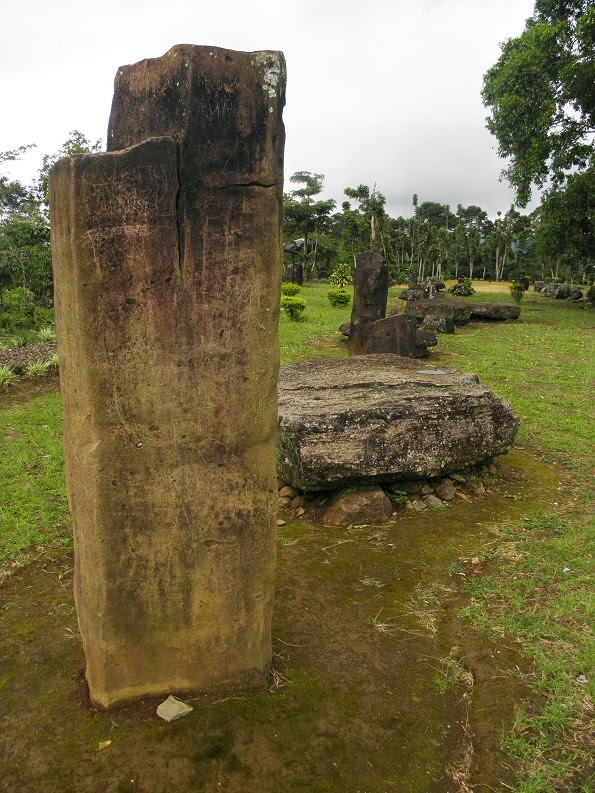 West Lampung has megalithic sites named Batu Brak. From the page of Indonesia Tourism Board from West Lampung district, this prehistoric sites is located in two regions of Kebun Tebu sub-districts and Gedung Surian.
There are different kind of relic at this megalith is can be found in the form of menhirs, dolmen and statues. Traveler can visit the region to carry out the various activities such as research studies or giving the appreciation of art and culture. In addition to the tourist spots above, West Lampung is also store other natural resources in the form of a waterfall.
Batu Brak Megalithic site was first discovered in 1951 by the BRN (Badan Rekonstruksi Nasional) or National Reconstruction Agency. The first study was initiated in 1980 by Prof.Dr.Aris Soekandar an archaeologist from Jakarta. The complex of megalithic site of Batu Brak is under the auspices of the Department of Culture and Tourism of Lampung Province in collaboration with Asylum Board of Antiquities Banten.
Based on the findings, it was concluded that the Batu Brak megalithic site was once used as a place of worship, not a funeral at the time of animism. This site has gone through four stages of restoration, which began in 1984 until 1989. In 1989, the complex was opened to the public either for travel or for research purposes.
There are several types of stones in the complex of Batu Brak megalithic sites, among others:

1. Batu Tegak
Totaling 40 pieces made of stone andesed, and serves as the binding of sacrificial animals during religious ceremony during animism era.


2. Dolmen or table
Totaling 38 pieces made of stone moneled, and serves as a place to put the offerings at religious ceremonies during animism era.


3. Batu Datar of Flat Rock
Consists of 3 pieces, made of stone that still in the research process, while the function is the same with the dolmen.


4. Batu Umpak or Stone pedestals
A small boulder of unknown function.


From the excavations around the complex of Batu Brak megalithic site, there are found several items, among others:

1. Manik – manik or beads
Made of glass and stone.


2. Denomination ceramics
Both from local and foreign.

Latest News
Lampung, located on the southern tip of Sumatra, only a 45-minute flight from Jakarta, offers a wide array of tourist attractions. Here is a list of 7 destinations to look out for when visiting Lampung: 1. MUTUN BEACH Located in Teluk Betung, Bandar Lampung, Mutun Beach is a family destination with various activities on offer. Visitors can enjoy relaxing on the beach or hire a banana boat for some more fun. As it is located near the city center, the beach is also a popular destination for local residents. Although…
---
For the charm of the beach in Lampung, it has not been fully exposed. Even though the charm of natural beauty offered by the beaches in Lampung is also beautiful like other beaches. Moreover, the beaches in Lampung are directly opposite the Indian Ocean and the southern coast of Sumatra. This is a strong reason why beaches in Lampung can also compete, like these five beaches that are still original. Batu Lapis BeachThis beach is located on Jalan Tanjung Heran Penengahan, Hargo Pancoran Village. This beach can reached from the…
---
Those who love to challenge themselves and hike the highest point must be visit the Pesagi Mt. This mountain is the highest point at West Lampung district and it is located in Belalau district. This mountain area has also been developed as a natural tourist attraction called Pekon Hujung. Pesagi Mt is located in the district of Balik Bukit, Liwa, West Lampung, and this is the highest mountain in Lampung, that reaches a height of 2,262 meters. At the foot of this mountain, it believed as the location of the…
---
Tanjung Putus Island is one of the islands located in the District Pasawaran, Teluk Lampung, Lampung Province. The island is part of Kelagian Island and Pahawang Island. Pulau Tanjung Putus is a gorgeous island with beautiful panorama over the land. The name of Tanjung Putus or Cutting Cape is taken from it supposedly was once the island that united Sumatra Island. However, due to the erosion of some land covered with sea water and become a small strait. Pulau Tanjung Putus has considerable sloping beach. The clear blue sea water…
---