Kenali Traditional House
---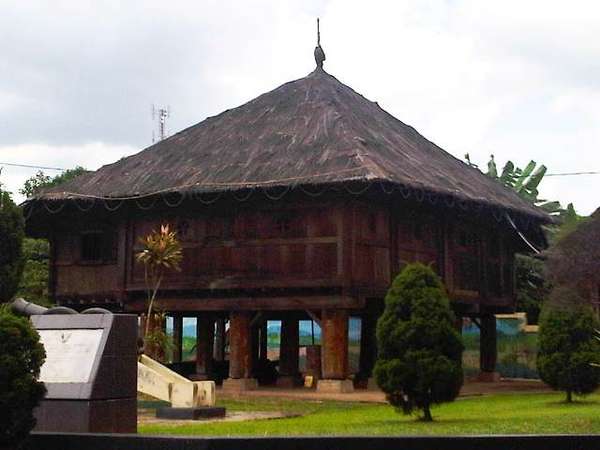 Every region in Indonesia has particular traditional house that representing the area, culture or way the ancestors live for generation. In Lampung the traditional homes is in the form of stage house that made of wood, which the under part is intentionally being blanked as a place to save livestock and crops. Commonly, those traditional houses have been standing for decades or even hundreds of years. The forms of traditional houses in Lampung is can be see in some villages at Belalau district like, Hujung, Kenali, Turgak, Luas, Kotabesi, Canggu, Pekon Balak, Negeri Ratu, Sukabumi, and in the District of Balik Bukit like Kotaagung and Empulau Ulu.
As in other areas, in Lampung traditional homes has several forms that adapted to the position and status of the owner, such as Gedung Dalom that designation Kraton / Palace for a Suttan / Sultan / King / Saibatin, who is the owner of Indigenous Peoples, the owner of region and customary rights. However, the oldest traditional home in West Lampung is about 350 years old.
Kenali traditional house, is the home from Lampung that also popular by the name of Pesagi house. Lampung traditional house is reside in Kenali Village, West Lampung.
Rumah Kenali is a house that has different look other than common house in Lampung. The roof is made of fiber leaves, instead of tile or zinc. Instead of made by concrete or brick, the wall is still made of wood. Everything under the house is only supported by large wooden beams. Although, the house was built by wood that standing for hundreds of years, but the house is still standing firm against the time.
There is an interesting thing of this traditional house. Despite having been crowned as archaeological site, but we can see the glow of life at this old house because it still occupied by the owners. The home is well-maintain by the ower and there is love inside the house.
Anyway, the house has been occupied by the family for 3 generations, which reached 300 years until today and it already be the witness to the history of Indonesian struggle against the colonials.

Latest News
Lampung, located on the southern tip of Sumatra, only a 45-minute flight from Jakarta, offers a wide array of tourist attractions. Here is a list of 7 destinations to look out for when visiting Lampung: 1. MUTUN BEACH Located in Teluk Betung, Bandar Lampung, Mutun Beach is a family destination with various activities on offer. Visitors can enjoy relaxing on the beach or hire a banana boat for some more fun. As it is located near the city center, the beach is also a popular destination for local residents. Although…
---
For the charm of the beach in Lampung, it has not been fully exposed. Even though the charm of natural beauty offered by the beaches in Lampung is also beautiful like other beaches. Moreover, the beaches in Lampung are directly opposite the Indian Ocean and the southern coast of Sumatra. This is a strong reason why beaches in Lampung can also compete, like these five beaches that are still original. Batu Lapis BeachThis beach is located on Jalan Tanjung Heran Penengahan, Hargo Pancoran Village. This beach can reached from the…
---
Those who love to challenge themselves and hike the highest point must be visit the Pesagi Mt. This mountain is the highest point at West Lampung district and it is located in Belalau district. This mountain area has also been developed as a natural tourist attraction called Pekon Hujung. Pesagi Mt is located in the district of Balik Bukit, Liwa, West Lampung, and this is the highest mountain in Lampung, that reaches a height of 2,262 meters. At the foot of this mountain, it believed as the location of the…
---
Tanjung Putus Island is one of the islands located in the District Pasawaran, Teluk Lampung, Lampung Province. The island is part of Kelagian Island and Pahawang Island. Pulau Tanjung Putus is a gorgeous island with beautiful panorama over the land. The name of Tanjung Putus or Cutting Cape is taken from it supposedly was once the island that united Sumatra Island. However, due to the erosion of some land covered with sea water and become a small strait. Pulau Tanjung Putus has considerable sloping beach. The clear blue sea water…
---