Putri Malu Waterfall
---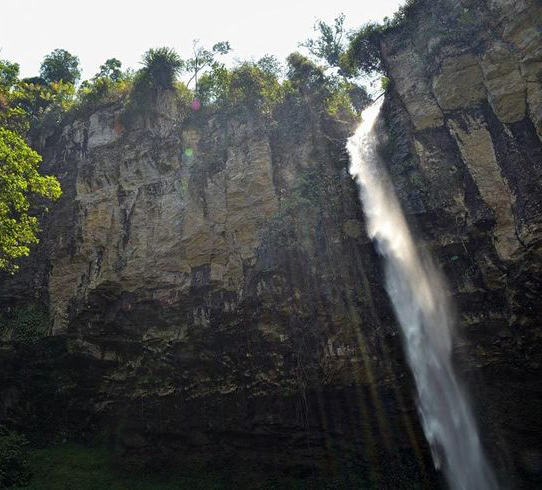 Situated in Way Kanan area, Putri Malu Waterfall is one of the tourist attractions in Lampung which may rarely visited by the public because of the exhausting trekking. This interesting and unspoiled place is more frequented by nature lovers who then take pictures and swim under the waterfall.
The name of Putri Malu or the shy princess is taken from the shape of the waterfall that look like bent so that it seems like a shame. Putri Malu Waterfall has 80 meters high. Along the way to reach the waterfall, if we are lucky, we can find wild strawberries that freshly taste sweet and sour at the same time.
The location of this waterfall is genuinely beautiful and can be an alternative destination for having recreation. The lush green nuance is combined with the wet tropical forest that still virgin and unspoiled. For those who come to this place are better to have your own meals and drinks for there are no stalls around the waterfall.
Have distance around 46 km from the Capital District Way Kanan, Blambangan Umpu. It is easily accessible from Sumatra highway by passingg from SMUN 1 Baradatu high school juction.

Latest News
Lampung, located on the southern tip of Sumatra, only a 45-minute flight from Jakarta, offers a wide array of tourist attractions. Here is a list of 7 destinations to look out for when visiting Lampung: 1. MUTUN BEACH Located in Teluk Betung, Bandar Lampung, Mutun Beach is a family destination with various activities on offer. Visitors can enjoy relaxing on the beach or hire a banana boat for some more fun. As it is located near the city center, the beach is also a popular destination for local residents. Although…
---
For the charm of the beach in Lampung, it has not been fully exposed. Even though the charm of natural beauty offered by the beaches in Lampung is also beautiful like other beaches. Moreover, the beaches in Lampung are directly opposite the Indian Ocean and the southern coast of Sumatra. This is a strong reason why beaches in Lampung can also compete, like these five beaches that are still original. Batu Lapis BeachThis beach is located on Jalan Tanjung Heran Penengahan, Hargo Pancoran Village. This beach can reached from the…
---
Those who love to challenge themselves and hike the highest point must be visit the Pesagi Mt. This mountain is the highest point at West Lampung district and it is located in Belalau district. This mountain area has also been developed as a natural tourist attraction called Pekon Hujung. Pesagi Mt is located in the district of Balik Bukit, Liwa, West Lampung, and this is the highest mountain in Lampung, that reaches a height of 2,262 meters. At the foot of this mountain, it believed as the location of the…
---
Tanjung Putus Island is one of the islands located in the District Pasawaran, Teluk Lampung, Lampung Province. The island is part of Kelagian Island and Pahawang Island. Pulau Tanjung Putus is a gorgeous island with beautiful panorama over the land. The name of Tanjung Putus or Cutting Cape is taken from it supposedly was once the island that united Sumatra Island. However, due to the erosion of some land covered with sea water and become a small strait. Pulau Tanjung Putus has considerable sloping beach. The clear blue sea water…
---