Lampung Province
---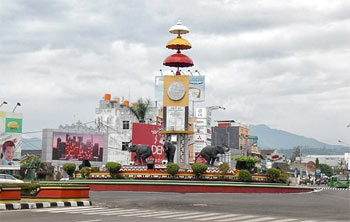 Lampung is located on the southern tip of Sumatra Island, with the capital of Bandar Lampung. The people on Lampung are mostly coming from the transmigration program which is the descended migrants from Java, Madura, and Bali. That is why, Lampung is become the first destination for the immigrants who want to get a better life for land, instead of Java Island.
Even though, Lampung people are mostly coming from the immigrant, there is the indigenous tribe of Lampung which is called as Ulun Lampung or Lampung people. Ulun Lampung is usually using their own language, kind of traditional language which is the branch of Sundik, the family of west Malay-Polynesian language.
While on Lampung script, it is called as Had Lampung is a form of writing that has a relationship with a alphabet Pallawa from South India. Had Lampung is influenced by Pallawa script and Arabic letters. Had Lampung is also have a form of kinship with the characters of Rencong, Rejang Bengkulu script and Bugis script.
The most economic commodities for Lampung is coming from their coffee plantation of Robusta Coffee beans, Cocoa beans, coconuts and cloves. The quality from Lampung coffee is proudly shown by the Nestlé Company that use their coffee as the raw material for its coffee products.
Other famous product from Lampung is their woven cloth called Tapis cloth. Tapis cloth is a women traditional cloth from Lampung, in form of Sarong and made by woven cotton yarn with decorative motifs of gold and silver with embroidery system. This kind of handicraft is made by women, both housewives and girls, usually called as Muli Muli. The purpose is was originally to fill the spare time in order to require the tradition, which is considered sacred.
Currently, Tapis cloth is produced by craftsmen in varied to be good commodity that has high economic value. There are some potential destination from Lampung that required to be the tourism destination, like elephant cultivation of Way Kambas, Lampung Museum, Ranau Lake, Bukit Barisan National Park, Megalithic area and the historical one of Krakatau Mountain.
Krakatau is a volcanic island made of a'a lava. It lies in the Sunda Strait between Java and Sumatra. There are several times eruptions from this Krakatau Mountain, until the last eruption there is a new mountain show up and being called as Anak Krakatau or Krakatau child. It is the most favorite destination among the tourist that wants to spend their holiday to Lampung.

Latest News
Lampung, located on the southern tip of Sumatra, only a 45-minute flight from Jakarta, offers a wide array of tourist attractions. Here is a list of 7 destinations to look out for when visiting Lampung: 1. MUTUN BEACH Located in Teluk Betung, Bandar Lampung, Mutun Beach is a family destination with various activities on offer. Visitors can enjoy relaxing on the beach or hire a banana boat for some more fun. As it is located near the city center, the beach is also a popular destination for local residents. Although…
---
For the charm of the beach in Lampung, it has not been fully exposed. Even though the charm of natural beauty offered by the beaches in Lampung is also beautiful like other beaches. Moreover, the beaches in Lampung are directly opposite the Indian Ocean and the southern coast of Sumatra. This is a strong reason why beaches in Lampung can also compete, like these five beaches that are still original. Batu Lapis BeachThis beach is located on Jalan Tanjung Heran Penengahan, Hargo Pancoran Village. This beach can reached from the…
---
Those who love to challenge themselves and hike the highest point must be visit the Pesagi Mt. This mountain is the highest point at West Lampung district and it is located in Belalau district. This mountain area has also been developed as a natural tourist attraction called Pekon Hujung. Pesagi Mt is located in the district of Balik Bukit, Liwa, West Lampung, and this is the highest mountain in Lampung, that reaches a height of 2,262 meters. At the foot of this mountain, it believed as the location of the…
---
Tanjung Putus Island is one of the islands located in the District Pasawaran, Teluk Lampung, Lampung Province. The island is part of Kelagian Island and Pahawang Island. Pulau Tanjung Putus is a gorgeous island with beautiful panorama over the land. The name of Tanjung Putus or Cutting Cape is taken from it supposedly was once the island that united Sumatra Island. However, due to the erosion of some land covered with sea water and become a small strait. Pulau Tanjung Putus has considerable sloping beach. The clear blue sea water…
---