Wates Square in Kulon Progo Regency, Yogyakarta
---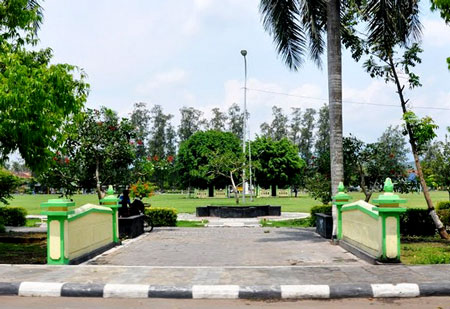 Being the capital of Kulon Progo Regency makes Wates City popular among tourists. Usually, visitors come to explore the historical buildings and some interesting tourist spots like Wates Square. The locals call it Alun-Alun Wates or Alwa, actually. The location is in Terbah Village and it has become the best place to relax after working and during weekends. It is true the majority of visitors are those who live nearby and the citizens. Still, some travelers often drop by in order to rest for a while before continuing their trip. Regardless of the purpose, the square accommodates everyone with a relaxing and beautiful landscape.
The Nuance
In terms of size, Wates Square is considered wide. The main feature is definitely the grassy field with many plants and trees that surround it. In the midst of the field, tourists may find an open stage with a stunning monument and fountain on it. Usually, visitors sit in that area and watch other visitors doing fun activities like sports or photography. Here is the tip. Everyone should come at the right time depending on the activity they are going to do. For example, it is the best to come at night if they want to see sparkling lights and to enjoy merrier nuance.
Exploring Wates Square
The question is what tourists can do in Wates Square. For example, they can come either with friends or families to conduct a recreation together. After all, the site provides numerous facilities and rides for everyone to use or rent! No wonder, many parents with kids are seen there during weekends and Sundays. The recent facility is the free wireless fidelity connection, which is quite helpful for those who carry either a laptop or smartphone. Once again, it is free to use!
The next common reason for visiting Wates Square is to enjoy some local snacks and foods. Usually, many local food vendors (Angkringan) operate in the square and sell various foods and drinks at a cheap price. The most favorite ones are boiled peanuts, fries, local coffee, and nasi kucing. For foreigners, they must try them all! Have no worries. The prices are cheap, so everyone can buy lots of them without spending much money.
What is more? Many people come to Wates Square either in the morning or afternoon in order to exercise. These include jogging and group sports like tennis, basketball, soccer, and volley. After all, the site provides the courts to do those sports. Another common thing to do in Wates Square is to gather with a local community. These communities have the regular schedule for such event, in fact. The good news is tourists are allowed to join them!
Nearby Attractions

Bale Agung Museum
Wates Market
Wates City Park
How to Get There
From Adisucipto International Airport, it takes about 1 hour and 3 minutes to reach Wates Square. It is because the distance is 44.9 km. This trip becomes faster if they take Magelang – Purworejo Street, though. What they need to do is to reach Terbah Village where the square is located.
Where to Stay

King's Hotel
Kusuma Hotel