Moyeng Peak in Kulon Progo Regency, Yogyakarta
---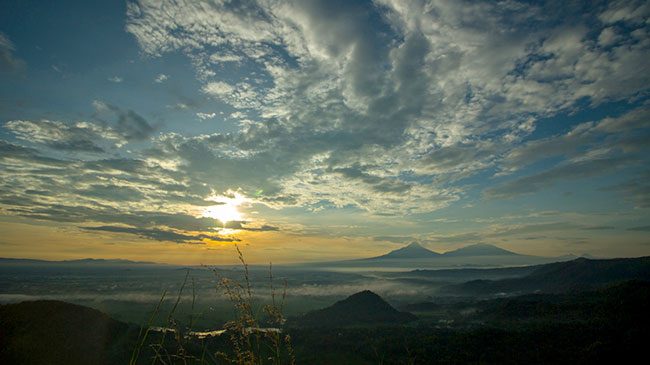 In Kulon Progo Regency, some great spots are available to enjoy sightseeing and witness the sunrise. One of the most recommended places is Moyeng Peak at Girimulyo Sub-District. To be exact, it resides in Giripurwo Village. The good thing is the location is quite accessible from several villages. It is because the peak is located at the border of Sekaro, Pendoworejo, Giripurwo, and Tileng Village! Plus, it is located near to famous natural waterfalls like Sewu, Setawing, Kedung Pendut, and Dungwong. Due to such strategic location in Indonesia, visitors can enjoy many attractions at once without spending too much time.
The Nuance
In terms of nuance, Moyeng Peak is considered similar to that of Yogyakarta's Bukit Bintang. It offers wonderful panoramas regardless of time, including at night! The air is fresh and the ambiance is quite peaceful. For the information, in terms of height, Moyeng is shorter than Gajah and Suroloyo Peak (which are located in Menoreh Hills too). That means it takes no time and less effort in order to get to the top of it. As for the scenery, tourists can see Merbabu and Mountain clearly from up there. Do not forget the sunrise looks the best seen from Moyek Peak!
Exploring Moyeng Peak
The most attractive allure in Moyeng Peak is definitely the sunrise with its perfect atmosphere. In order to witness such stunning panorama, though, everyone should visit the site earlier in the morning. Also, it is the best if they come during the annual art performance. The locals hold the event regularly at the location, especially when the sun rises. Thus, it is better to learn the schedule first regarding the event before going up there.
Well, the fact is Moyeng Peak offers than such amazing sunrise. It is because visitors can witness other beautiful panoramas once they arrive at the top of the hill. For instance, serene local farms are seen clearly from above. Even tourists are able to see nearby villages from that spot! This is why everyone should not forget to carry a camera if they decide to come here. Plus, it is recommended to come with a tour guide who owns a good vehicle to pass through the difficult routes. Not to mention carrying ample supplies like snacks, bottled water, extra clothes, and mat becomes a good idea.
The next recommended thing to do when visiting Moyeng Peak is to drop by in the traditional village called Banaran. Not only tourists have the chance to meet the locals, but they can try their delicious foods as well. Those people are friendly and even give tips regarding how to enjoy a good vacation at Moyeng.
Nearby Attractions

Kayangan Dam
Kedung Pedut Waterfall
Watu Tompak
How to Get There
a trip to Moyeng Peak may take around 49 minutes as the distance is 34.8 km. Have no worries. It becomes faster if tourists take Godean Street. What they need to do is to head to Girimulyo Sub-District first. Lastly, they should reach Giripurwo Village and conduct trekking to the top of the mountain.
Where to Stay