Arus Progo Rafting Waterpark in Kulon Progo Regency, Yogyakarta
---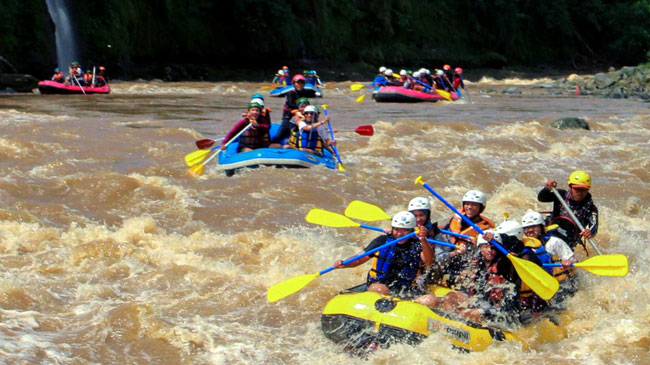 Each person has a different preference when it comes to spending a vacation. Some of them are into casual tourist activities, while others choose more challenging outdoor activities like rafting. Speaking of extreme sports, there is a good place to enjoy rafting at Kulon Progo Regency. The name is Arus Progo Rafting Waterpark and it is located in Banjararum Village (Kalibawang Sub-District). As the name suggests, it is done at Progo River and offers three routes including a long, medium, and regular trip. That means tourists are allowed to choose one based on their experience and other preferences including stamina.
The Nuance
When it comes to the nuance, Arus Progo Rafting Waterpark is considered merry due to the high number of visitors. Have no worries. Many instructors are available and they are ready to help everyone regarding safety tips and instructions. As for the route difficulty, it depends on the type of trip that tourists choose later. That means they can choose either the easy, medium or hard one. Here is the next good news. The basecamp is located near to various vacation spots including Suroloyo Peak, Kedung Pedut Waterfall, and much more. That means everyone can drop by at those places later as well.
Exploring Arus Progo Rafting Waterpark
For those who never try Arus Progo Rafting, it is recommended to talk to the instructor first before hitting the water. The purpose is to determine the most suitable rafting trip and difficulty based on their experience. This way, everyone is able to avoid troubles when rafting. So, what are the options? For beginners, they must choose the regular trip that has the length of 9 km. That means it takes about 1 hour and 30 minutes to explore the rafting route.
As for the medium route, tourists need to pass through the rafting route having the length of 12 km. At least, this one takes about 2 hours to finish. What about the long trip? It is considered the longest, having the route distance of 25 km! That means tourists need to spend about 4 hours to pass through it. Not only it requires much stamina, the route also takes a better instructor and safety gears.
After enjoying Arus Progo Rafting, tourists can also enjoy other some delicious foods provided by the management. These include fried chicken, ingkung, tumpeng rice, and much more! Have no worries. The price is quite affordable and those foods taste great! As an alternative, tourists can carry foods or snacks to the site. They can enjoy these later after rafting, without worries.
Nearby Attractions

Tinalah Village
Banjarsari Village
Embung Kleco
Moyeng Peak
Dekso Field
How to Get There
A trip to the base camp of Arus Progo Rafting Waterpark may take about 51 minutes if tourists come from Adisucipto International Airport. It is because the distance is 36.9 km. Have no worries. The trip becomes faster if they take Godean Street. After all, the route is considered easy so everyone can get to the base camp without hassles.
Where to Stay