Taman Budaya in Kulon Progo Regency, Yogyakarta
---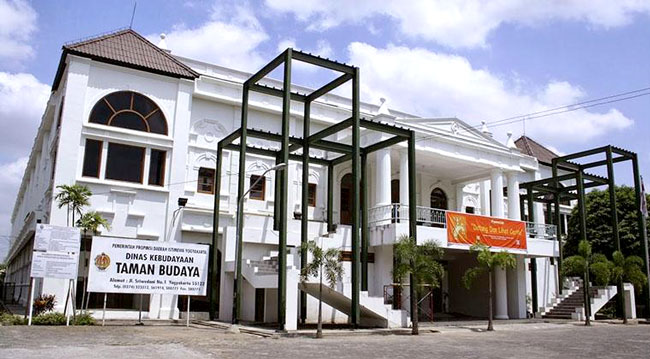 In Kulon Progo Regency of DIY Province, tourists may find a new vacation destination called Taman Budaya (Cultural Park). The location is in Pengasih Sub-District and it becomes a good place to watch various occasions done by either the local government or communities. Even though tourists need to find out the schedule regarding the events first, they won't regret the performance later. Therefore, tourists should consider dropping by there while exploring Kulon Progo. After all, they can learn a little bit about the local culture and a distinct entertainment that they won't find in other places. It becomes a good destination for a family recreation too, somehow.
The Nuance
As mentioned earlier, Taman Budaya is a new building so it still comes with a nice condition and perfect environment. In terms of size, the building is built on the area of 4.2 hectares! It consists of several facilities and structures including Joglo Pendopo, closed stage, open theater, small mosque, generator-set warehouse, fences, gates, and much more. The best thing is the management does a good job of maintaining the site. No wonder, it always looks clean and neat so visitors would feel comfortable while spending time at Taman Budaya. As for the fee, some events are free while others cost some money depending on the occasion.
Exploring Taman Budaya
First things come first. Everyone needs to know why the local government decided to build Taman Budaya. According to the locals, the purpose is to provide a place on where people can learn local culture and arts. The hope is local people won't forget their traditions and can be more proud of them. In this globalization era, traditional cultures are on the edge of extinction, no? Thus, the cultural park is able to attract more people in both learning and enjoying such rich customs that they have.
When it comes to the history, the construction took about 3 years and it cost lots of money. The inauguration was in 2017 and done by Sultan Hamengku Buwono the 10th and Hasto Wardoyo (who was the current regent at the time). During the soft opening, they planted Sawo Kecik Tree as the sign that the building is ready for the public. The real question is what tourists can do there. Don't you think so?
As for tourist activities, visitors can simply enjoy exploration and photography during the visit. For the best experience, though, it is recommended to come during the special events when many arts and cultural performances are held. In this case, everyone must find out the schedules first before visiting Taman Budaya. Somehow, hiring a tour guide is recommended to get thorough information regarding those events.
Nearby Attractions

Binangun Park
Mur Gede Fountain
Titisan Art Studio
How to Get There
For those coming from Adisucipto International Airport, they need to spend about 54 minutes to get to Taman Budaya as the distance is 36.2 km. What they need to do is to head to Pengasih Sub-District and reach the building right away. Here is the tip. They must take Yogyakarta – Wates Street for a faster trip.
Where to Stay

Wisma Kusuma Hotel
King's Hotel