Kalilo Pine Forest in in Kulon Progo Regency, Yogyakarta
---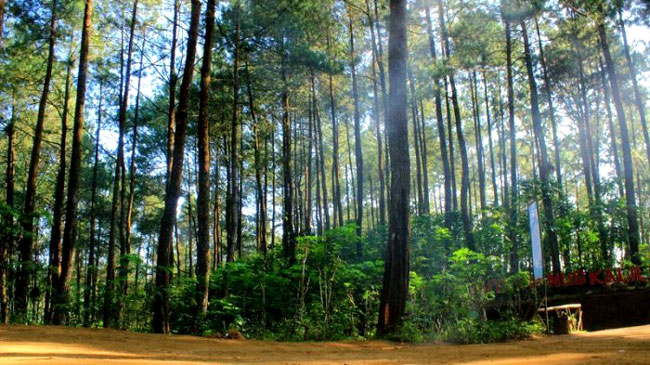 Those who are visiting Kulon Progo Regency should take their time and explore all natural attractions thoroughly. These include the famous Kalilo Pine Forest, without a doubt. The location is near to the border between Kulon Progo and Purworejo Regency. To be exact, it resides in Tlogoguwo Village and belongs to Kaligesing Sub-District. As people may expect, they may find tons of pine trees once arriving at the location. Not only the forest is suitable for photography, but it also helps visitors to relax and eradicate stresses! Spending a vacation in a serene pine forest is a new experience for many people, after all.
The Nuance
It is, without a doubt, the prime allure is the formation of tall pine trees scattering in all parts of the forest. The good thing is the forest also features a pathway on where tourists can use for exploration. In terms of nuance, it feels shady and soothing due to the presence of those tall pine trees. That means it remains comfortable to explore the forest even though tourists come at noon. What they need to prepare is only a good stamina, as the route is a little bit steep. Despite the fact, the peaceful ambiance soothes everyone and gets rid of tiredness right away.
Exploring Kalilo Pine Forest
Usually, visitors come from nearby settlements. They come to the pine forest to enjoy the serene nuance for sure. Aside from these people, visitors also come from outside the regions in fact. Most of them are travelers who want to rest for a while at the pine forest before continuing the trip. Other visitors are those who love nature and adventure, actually. They often come to the site during weekends or after work. In a nutshell, these people are hobbyists.
As for tourist activities, the most common thing to do in Kalilo Pine Forest is photography. Tourists may simply take selfies in front of the trees or make them as the prime background of their photos. The most important thing to consider is only the weather! Everyone should only come to the site during a sunny day. After all, rain may ruin the mood in exploring the forest and taking good photos.
The good thing is Kalilo Pine Forest is managed well by the local youth community. This explains why the environment looks clean and neat, without any trash. Therefore, tourists should avoid littering at all cost! It is true carrying foods and eating snacks are allowed there, but everyone should take care of the trash later.
Nearby Attractions

Sigendol Hill
Slamet Kaligesing Hill
Cilik Mountain
How to Get There
From Adisucipto International Airport, a trip to Kalilo Pine Forest may take around 1 hour and 14 minutes as the distance is 43.4 km. Well, this trip becomes faster if tourists take Godean Street and use the right transportation service. After reaching Kaligesing Sub-District, it takes only several minutes to get to Tlogoguwo Village where the pine forest resides. Make sure to come during a good weather, though.
Where to Stay