Tebing Gunung Gajah in Kulon Progo Regency, Yogyakarta
---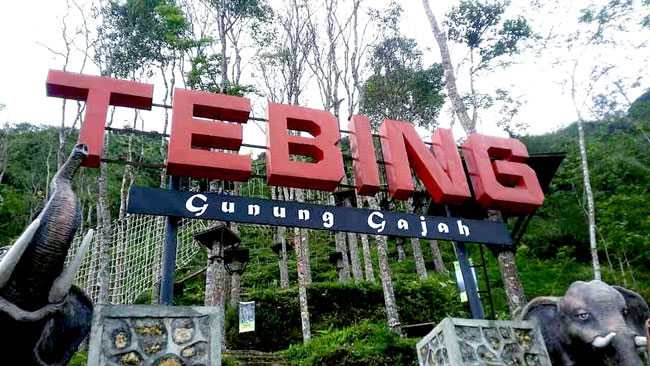 More natural attractions are available in Kulon Progo Regency, so tourists won't run out of option when choosing a tourist spot for the next holiday. As for the reference, there is Tebing Gunung Gajah located in Kokap Sub-District. The location is in Donorejo Village and it resides near to the border of Purworejo Regency. The thing is not many tourists have heard about it, as the cliff is considered a new tourist site. This explains the number of visitors is lower than some places like Kalibiru or Waduk Sermo. Despite the fact, it has a great potential to be the next significant tourist allure in Kulon Progo!
The Nuance
Gunung Gajah Cliff is located on 900 meters above the sea level, featuring numerous landscapes and lots of trees and plants. Plus, the atmosphere feels so refreshing due to the pure air and serene nuance. In terms of size, the site has the total area of 2 hectares. Once arriving at the location, tourists may see a unique gate with two elephant statues beside it. Not to mention various outbound facilities are available for tourists to use there! Moreover, the pristine environment and beautiful scenery are suitable to conduct photography during exploration. From there, tourists can even witness Menoreh Hill and Waduk Sermo clearly!
Exploring Tebing Gunung Gajah
First things come first. Once arriving at Tebing Gunung Gajah, tourists should not forget to take photos in front of the gate. The unique design of the gate is worth a photo shoot, for sure. Have no worries. Other interesting objects are available, so tourists can satisfy their photography hobby easily. These include the majestic mountainous panorama in the horizon and great cliffs nearby. For the information, "Tebing" means cliff. This explains why the site features such beautiful natural object!
The next thing to do in Tebing Gunung Gajah is to enjoy the nuance. It is as simple as witnessing the stunning scenery of Menoreh Hills, Waduk Sermo, and south beaches. Somehow, the atmosphere feels so soothing and cold due to the fact that the site resides on 825 – 916 meters above the sea level. Thus, it suits those who look for relaxation and finding a peaceful spot to find inspiration.
What is more? The best thing that tourists can do in Tebing Gunung Gajah features some outbound rides for everyone to us! These include the flying fox, susur gua, treetops, and much more! That means the site is suitable to conduct a ground outdoor activity and family recreation as well. Have no worries. The fees are quite affordable, so everyone is able to afford them. Do not forget to carry extra cash to pay the parking fee and buy some foods at the available mini café later, though.
Nearby Attractions

Waduk Sermo
Kedung Pedut Waterfall
Menoreh Hill
Bambu Air Park
Munggur Park
How to Get There
In order to get to Tebing Gunung Gajah, tourists must head to Kokap Sub-District at Kulon Progo Regency first. Next, they should visit Donorejo Village and conduct a short trekking to the site. This whole trip would take around 1 hour and 14 minutes if tourists come from Adisucipto International Airport at Yogyakarta Special Region Province. The distance is 42.4 km, after all. Have no worries. This trip becomes faster if they take Godean Street.
Where to Stay