Nyi Ageng Serang Tomb in Kulon Progo Regency, Yogyakarta
---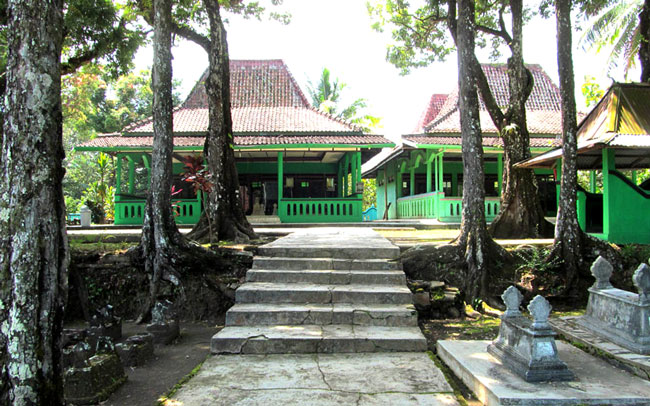 During the reign of the Dutch, many local heroes fought bravely in order to obtain the national independence. One of the most famous conflicts was Diponegoro War led by Diponegoro Prince himself. He also obtained lots of help from other heroes including a brave woman namely Nyi Ageng Serang. Due to her contribution, the locals even built a monument in Kulon Progo Regency. Not to mention tourists can find her tomb located at Banjarharjo Village in Kalibawang Sub-District. These days, in fact, the tomb becomes a recommended vacation spot to conduct pilgrimage and to learn the history about her. The site is actually a complex of tombs, featuring numerous tombstones including that of Ageng Serang.
The Nuance
In terms of size, the complex looks wide as it consists of several tombs. In 1983, in fact, the local government renovated and applied the Joglo design to it. For the information, the complex consists of two parts where tourists can explore. In the east part, visitors may find the prime tomb that belongs to Nyi Ageng Serang, Abdi Dalem, etc. In the west part, several tombs reside including the ones that belong to Nyi Ageng Notoprojo, Mirah Ayu, etc. Due to the fact, it is better to hire a local guide when exploring the site (for better information and tips). When it comes to the nuance, the area looks shady and neat due to the presence of several big trees.
Exploring Nyi Ageng Serang Tomb
Usually, Nyi Ageng Serang Tomb becomes quite crowded every Friday. It is because the locals believe it as the sacred day to conduct pilgrimage. In this case, tourists may decide whether they come at the time or not. If they want a merry nuance, visiting the tomb on Friday is a good idea. On the other hand, they must visit it on regular days if they want a more peaceful atmosphere.
Once arriving at the site, they may find a monument telling information regarding Nyi Ageng Serang history. For better info, it is recommended to hire a local guide though. It is said Nyi Ageng was the daughter of King Notoprojo and part of Mataram Kingdom. After fought bravely alongside with Prince Diponegoro, she died in 1833 due to the old age. Before dying, she said to the locals that they must always remember heroes who have fought bravely for their independence.
As for tourists, Nyi Ageng Serang Tomb becomes a perfect location to conduct a pilgrimage or religious tourism. The good thing is visitors are allowed to take photos during the visit. They must avoid littering and making hassles on the site, though. Those tombs are considered sacred, after all.
Nearby Attractions

Ancol Kalibawang Dam
Sendangsono Cave
Lawangsih Cave
Landak Cave
How to Get There
For those coming from Adisucipto International Airport, they can directly head to Nyi Ageng Serang Tomb by taking Kebon Agung Street. The distance is 35.7 km, so the trip may take about 56 minutes. Once arriving at Kalibawang Sub-District, they should head to Banjarharjo Village right away (where the tomb resides). Once again, it is better to come with a local guide for better details and information regarding the tomb complex.
Where to Stay

Rimbono Homestay
Gado-Gado BnB