Bambu Air Park in Kulon Progo Regency, Yogyakarta
---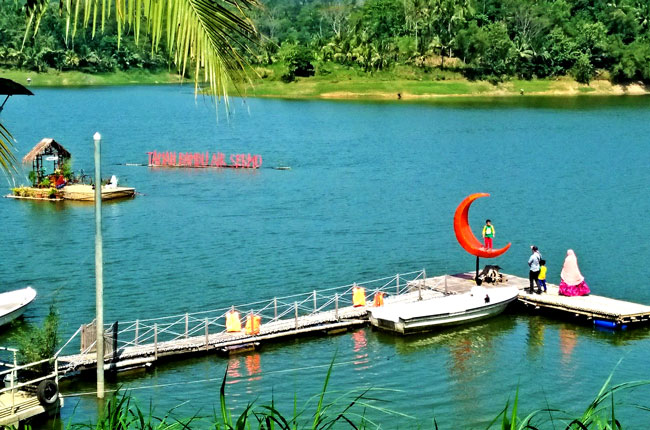 When talking about Kulon Progo Regency, most tourists are likely to recall a famous tourist spot called Waduk Sermo. Such majestic reservoir indeed has a unique charm, but it also comes with several satellite attractions including Bambu Air Park. This one also resides in Hargowilis Village and belongs to Kokap Sub-District. Many people also call it "The Floating Park of Sermo", actually. Due to such uniqueness, no wonder, more people keep coming regardless of from where they come. They want to enjoy some fun activities like photography and relaxation. The best thing is the park is located near to two major tourist sites, which are Waduk Sermo and Kalibiru.
The Nuance
The idea was to provide a floating park on where tourists can get a new vacation experience either with friends or families. The locals gathered lots of plastic drums and built some bamboo foundations on them. No wonder, people can walk and enjoy photography safely on that site (even though it is located in the midst of water area). In order to reach the site, though, they need to use a boat provided in the pier of Waduk Sermo. Have no worries. The fee is quite cheap. As for the ornaments, the management put some unique objects including old bikes, plants, bamboo tables, benches, etc.
Exploring Bambu Air Park
Once arriving at Waduk Sermo, tourists need to get a boat service in order to get to Bambu Air Park. For the information, the service is available at the pier II area. Regularly, the fee is quite cheap. It may become pricier during weekends and holidays, though, so everyone should consider extra cash to deal with such situation. The good thing is the floating park is a new tourist site, so it remains in a perfect condition. Plus, the boat service is always excellent and never disappoints visitors.
As for tourist activities, the most common thing to do in Bambu Air Park is photography. That means visitors may explore the floating park and take photos of available objects there. Somehow, the place is suitable to take selfies too! Some unique items are available for tourists to use, after all, including a traditional cap (caping) and old bike (ontel). Even the management provides some safety gears in order to deal with unwanted events especially drowning due to tourists' carelessness.
The fact is Bambu Air Park gets lots of visitors daily regardless of the time. Thus, everyone should be patient when it comes to using the boat service to get to the site. According to the management, in fact, more than a hundred people visit that place daily! This number even increases during weekends and long holidays!
Nearby Attractions

Sri Tinon Hill
Waduk Sermo
Pethu Hills
How to Get There
From Adisucipto International Airport at Yogyakarta City, a trip to Bambu Air Park may take about 1 hour and 22 minutes. It is because the distance is 54.6 km. The first destination is none other than Kokap Sub-District. Next, tourists only need to get to Hargowilis Village and reach the floating park right away by a boat from the pier. For the information, the whole trip becomes faster if tourists take Magelang – Purworejo Street.
Where to Stay

King's Hotel
Wisma Kusuma Hotel