Nglinggo Village in Kulon Progo Regency, Yogyakarta Special Region
---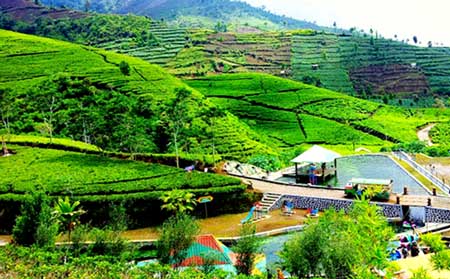 Living in a big city often causes troublesome stresses, especially for busy people. In order to relieve this discomfort, it is important to spend a vacation in a regular manner. Here is an idea. Tourists should head to Kulon Progo Regency at Yogyakarta Special Region and reach some tourist villages, including Nglinggo Village. The location is in Samigaluh Sub-District and it offers lots of allures to visitors. The village is located on a highland and has many interesting spots to explore, as well. As for tourist activities, tourists usually enjoy tea walking, photography, relaxation, and sightseeing there.
The Nuance
As mentioned earlier, Nglinggo Village is located on a highland, so the nuance feels both refreshing and chilling up there. For the information, the village resides on 800 meters above the sea level. Plus, the serenity also welcomes everyone right away. Still, the most recognizable feature is the presence of many tea plantations that surround the village. From the plantation, tourists can enjoy numerous beautiful panoramas too, including pine trees, green valleys, and hills. Also, the village features a beautiful waterfall for tourists to visit later. Moreover, various types of flora and fauna can be found there.
Exploring Nglinggo Village
So, what can tourists do in Nglinggo Village? Most people come to the village in order to explore the tea plantation. The purpose is either to enjoy both sightseeing and trekking. During the tea walking, in fact, tourists can freely take photos! Moreover, the mountain views look quite alluring in that area. Plus, the village has other types of farms to explore, including coffee plantation. Don't forget to take photos of nearby pine trees and soothing valleys, too, later.
Nglinggo Village is located in a secluded area on a highland and features some attractive hills for trekking, too. One of the best spots for sightseeing is called Ngisis Hill. After reaching the top of the hill, tourists would be able to enjoy either sunrise or sunset. In this area, visitors may also find some facilities including wooden bridges, stages, swings, etc. Conducting a family recreation on a highland would be quite nice, no?
What is next? Nglinggo Village also becomes a recommended vacation destination for cultural tourism. The traditional life of the locals amuses visitors and the local culture is worth to learn! Tourists are even able to learn some skills during the visit, including making masks, dancing, and fabric painting. What they need to do is to ask the locals to teach them about these.
Nearby Attractions

Nglinggo Tea Garden
Ngisis Hill
Watu Jonggol Waterfall
How to Get There
From Jakarta City, it is recommended to take an airplane at Soekarno – Hatta International Airport and head to Adisucipto Airport right away. During good weather, the flight would take around 1 hour and 10 minutes. After arriving at the airport, tourists can take Yogyakarta – Wates Street and head to Kulon Progo Regency. This trip usually takes about 54 minutes, as the distance is 36.7 km. After reaching Kulon – Progo Regency, their next destination is none other than Ngliggo Village and the best route to take is Gua Kiskendo Cave. The distance is 29.2 km, so the trip would take around 1 hour and 8 minutes.
Where to Stay