Suroloyo Peak in Kulon Progo Regency, Yogyakarta
---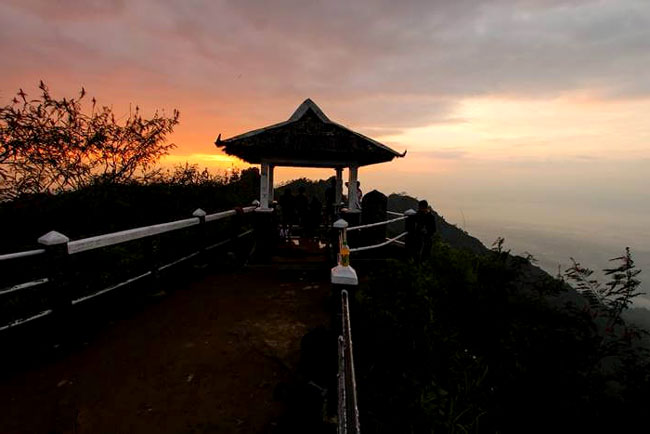 Another recommended place for hiking resides in Kulon Progo Regency, which is called Suroloyo Peak. As the name suggests, it offers outdoor activities to tourists including trekking, hiking, photography, and exploration. In terms of region, it belongs to Kulon Progo and Magelang actually. As for the best checkpoint, everyone should reach Onggosoro Village at Giritengah Sub-District. The fact is Suroloyo Peak belongs to Menoreh Hills, so it shares similar panoramas and landscapes. From the top of it, tourists are able to see Borobudur Temple clearly but small and other fabulous objects including the sunrise and sunset.
The Nuance
The exact location of Suroloyo Peak is in the tip of Menoreh Hills and it comes with perfect panoramas and nuance too. No wonder, people do not regret in spending much stamina and time in order to reach that spot. In terms of height, it resides in 1019 meters above the sea level and has several viewing posts with a gazebo installed on them. As for the scenery, tourists can see 4 famous mountains clearly including Merbabu, Merapi, Sumbing, and Sindoro. Not to mention the view of green vast plantation soothes everyone there!
Exploring Suroloyo Peak
Tourists can do many things in Suroloyo Peak. However, the most famous one is trekking or hiking. It is because visitors are interested in the challenges and difficulty of the route. The fact is the site features steep cliffs with valleys on both sides. Despite such scary scenery, trekkers don't have to suffer an uncomfortable experience at all. It is because the local government has built hundreds of stairs in order to accommodate everyone. The thing is the stairs come with a steep tilt, so tourists should be careful when heading above.
Once arriving at the top of Suroloyo, stunning panoramas may welcome everyone including the four majestic mountains stated above. Aside from such majestic view of the nature, visitors may be able to see tens of animals especially dragonflies, birds, and butterflies. However, these cute animals are only available during a good weather. That means trekkers won't find any of them if they come during rain. The next impressive feature of Suroloyo Peak is none other than the atmosphere, which comes with refreshing air and soothing wind. No wonder, most people come to the site in order to enjoy relaxation!
The next allure in Suroloyo Peak is the presence of hermitage sites called Kaedran and Sariloyo. Some locals often come to those sites in order to perform hermitage, in fact. As for the tip, it is recommended to come to Suroloyo Peak either early in the morning or afternoon. This way, tourists won't miss seeing the perfect sunrise or sunset at those times. Also, it is better to visit the location from June to September due to the best weather.
Nearby Attractions

Widosari Peak
Siluwok Waterfall
Sidoharjo Waterfall
How to Get There
In order to get to Suroloyo Peak, tourists should reach Onggosoro Village at Giritengah Sub-District first. If they come from Adisucipto International Airport, they may spend about 1 hour and 16 minutes to get to the checkpoint (as the distance is 43.7 km). As for the faster trip, it is recommended to take Kebon Agung Street.
Where to Stay

Borobudur Resort
Harja Homestay