Kedung Pedut Waterfall in Kulon Progo Regency, Yogyakarta
---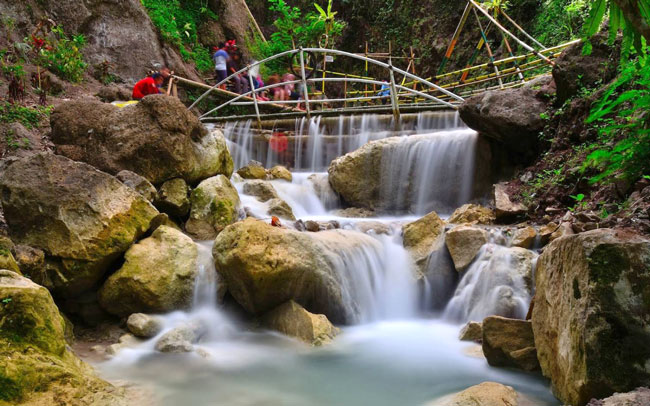 It is a known fact that Kulon Progo Regency has lots of vacation spots to visit either during regular days or holidays. Some of them are quite popular in fact, including Kedung Pedut Waterfall located in Girimulyo Sub-District. To be exact, the location is in Jatimulyo Village and it is considered one of the most famous ones in terms of beauty and serenity. Even though the accessibility is a little bit difficult (which hides in the midst of Menoreh Mountains), it offers an excellent atmosphere for relaxation and beautiful scenery for sightseeing.
The Nuance
There must be a reason why Kedung Pedut Waterfall is different and more popular than others, no? The most recognizable feature is the presence of several natural ponds that come with a different color including blue Tosca and crystal clear white. In terms of nuance, the site indeed has a peaceful ambiance due to the secluded location. Before reaching the location, tourists may even see amazing panoramas including terraced local farms, cliffs, mountains, etc. Once arriving at the site, tourists may see bamboo bridges built by villagers as well. Thus, everyone can explore the location easily due to such ample facility. Another recognizable feature is the presence of river stones that surround the ponds. What a great landscape!
Exploring Kedung Pedut Waterfall
As mentioned before, Kedung Pedut Waterfall has several ponds that come with different color and depth. In order to get the best experience, everyone should visit and take photos of all those ponds! If they want to play water, instead, it is recommended to choose the shallowest one (which is 2 meters). In this case, parents should supervise their kids well while playing water or swimming in those ponds.
Photography becomes the next reason why Kedung Pedut Waterfall is quite popular among both locals and outsiders. Not only visitors can take photos of the stunning waterfall itself, but they have other majestic objects to capture including the ponds and lush trees. Even the site is suitable for taking selfies especially using a smartphone. One thing, everyone should come during a good weather only if they want to get the best photos. After all, the rain may ruin the quality of it, no?
Another thing that tourists can do in Kedung Pedut Waterfall is definitely trekking or exploration. Here is the good news. The site has a challenging route, so trekkers would love it! Regardless of the experience, everyone should not forget to wear comfortable footwear and carry some equipment while trekking, though. For beginners, it is also recommended to come with a local guide who can show the direction and provide ample information regarding the site.
Nearby Attractions

Kembang Soka Waterfall
Sungai Mudal Park
Giriloka Vihara
How to Get There
If tourists come from Adisucipto International Airport, they need to spend about 1 hour and 7 minutes in order to reach Kedung Pedut Waterfall. For the information, the distance is 44.5 km. The trip can be faster if they take Godean Street and use the right vehicle, though. After arriving at Girimulyo Sub-District, they only need to head to Jatimulyo Village where the waterfall is located. One thing, it involves a short trekking so everyone must come with a good stamina as well.
Where to Stay

King's Hotel
Kusuma Hotel