Wana Winulang Park in Kulon Progo Regency, Yogyakarta
---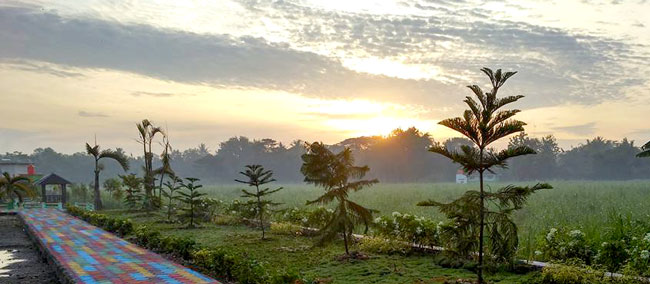 Spending a holiday or weekend doesn't have to be expensive and tiring. This is indeed a correct statement, no? For instance, everyone can simply visit any local park and spend a good time with families. In this case, Kulon Progo Regency has several recommended places for everyone especially the one called Wana Winulang Park. This one is located in Margosari Village and belongs to Pengasih Sub-District. Featuring a good landscape and nice facilities, the park is suitable to conduct a family bonding and spend a leisure time during weekends or holidays. Not only the park is popular among the locals, but it also attracts outsiders or those who live outside Kulon Progo.
The Nuance
In terms of size, Wana Winulang Park is considered moderate. However, the nuance is comfortable enough to enjoy relaxation and gathering, especially in the morning when the atmosphere is the freshest. When it comes to facilities, many facilities reside including gazebos a roundabout park, food vendors, and jogging track. The thing is the park doesn't come with lots of plants, so tourists may only see several small plants on the site. In the horizon, though, lush and shady trees reside beautifully. Even local farms can be seen clearly from the park.
Exploring Wana Winulang Park
The majority of visitors come from nearby settlements and they take advantage of Wana Winulang Park for relaxation either in the morning or afternoon. Despite the fact, some outsiders might be seen on the site sometimes. They usually are travelers who want to spend some time in the park for resting before continuing their trip. After all, the park offers a comfy nuance either for relaxation or resting. Plus, the presence of benches and small gazebos indeed help everyone to relax!
The next allure in Wana Winulang Park is none other than the location. It is true the park resides near to local villages and farms. No wonder, it offers a wonderful panorama which is good for photography. If tourists come at the right time, in fact, they may see some local farmers working on their farm. These people become a nice object for photography, as well, without a doubt. Therefore, it is recommended to carry a camera when visiting the park. Even the landscape itself is suitable for taking selfies.
Another thing that visitors can do in Wana Winulang is exercising or doing sports. The best one is definitely jogging either done in the morning or afternoon. For a merrier nuance, it is better to come in weekends or Sunday when many villagers are seen on the park. On the other hand, tourists can come on regular days if they want a peaceful atmosphere instead.
Nearby Attractions

PKK Monument
Wates Square
Binangun Park
Clereng Pool
How to Get There
For those coming from Adisucipto International Airport, they can directly head to Wana Winulang Park through Magelang – Purworejo Street. The distance is 44 km, so the trip may take around 1 hour and 5 minutes. The first thing to do is to get to Pengasih Sub-District. Next, tourists only need to head to Margosari Village where the park is located.
Where to Stay

Kusuma Hotel
King's Hotel