Binangun Park in Kulon Progo Regency, Yogyakarta
---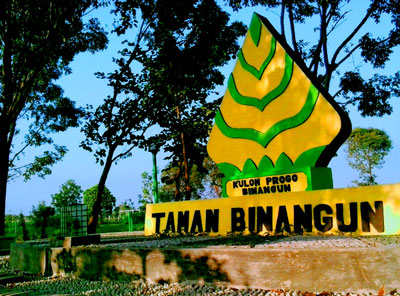 Spending a vacation can be as simple as visiting the nearby park either with friends or families. In this case, Kulon Progo Regency has Binangun Park which is located on Pengasih Sub-District. What tourists need to do is to head to Ngento Village where the park resides. In terms of location, the park is located in a strategic area which is near to MAN 1 (the local Islamic school). When it comes to function, the park accommodates everyone who wants to relax and spends a weekend peacefully. Somehow, it helps visitors to eradicate stresses as well.
The Nuance
In terms of size, Binangun Park has a moderate width and features several facilities. These include the slide on where kids can play freely. In the midst of the park, a small stage resides on where parents can supervise or watch their kids playing. There is also the unique name sign in the middle of the park, representing the symbol of Yogyakarta Special Region called "Gunungan". Also, the surface of the stage is bumpy due to the installation of small stones. Somehow, it helps visitors to enjoy reflexology by walking on it.
Exploring Binangun Park
It is true most visitors are those who live in Kulon Progo Regency especially the ones that live in Ngento Village. Despite the fact, some travelers often drop by and rest for a while at the park before continuing their trip. These people have a similar purpose in visiting the park, though. It is none other than to enjoy the comfy nuance! They may even get a better experience if they come either in the morning or afternoon (when the atmosphere is the best).
Aside from resting and relaxation, people come to Binangung Park for bonding with families or friends. Once again, these people are the locals who live nearby. They take advantage of the park to spend a family recreation after working or on weekends, as well. Often times, elders come to the site to conduct exercises and reflexology too! Other fun activities to do in the park are definitely jogging and hang out in the morning. What is more? Local kids also come there to play with their friends! It can be as simple as hiding and seek or other casual group games. The fact is the park also features slides for kids to use freely!
Another recommended thing to do in Binangun Park is to eat together at noon with families. Eating snacks with the loved ones in such comfy park indeed becomes a great way to spend a vacation on weekends, for sure. One thing, no one is allowed to litter! That's the prime rule that everyone should obey when visiting the park.
Nearby Attractions

Mur Gede Fountain
Karst Tubing Kali Serang
PKK Monument
Wana Winulang Park
How to Get There
If tourists come from Adisucipto International Airport, they may spend about 1 hour and 5 minutes to get to Binangun Park. After all, the distance is 42.6 km. Once arriving at Pengasih Sub-District, they only need to reach Ngento Village where the park resides. Here is the tip. They must take Magelang – Purworejo Street for a faster trip.
Where to Stay

King's Hotel
Kusuma Hotel