Setawing Waterfall in Kulon Progo Regency, Yogyakarta
---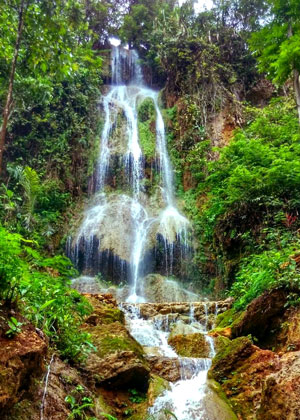 Of all regencies located in Yogyakarta Special Region Province, Kulon Progo is considered unique especially due to the presence of natural attractions like waterfalls. As for the reference, there is Setawing Waterfall in Jatimulyo Village and it belongs to Girimulyo Sub-District. Also, it is the part of Menoreh Mountains in Indonesia, which comes with beautiful panoramas and refreshing air. The fact is Menoreh offers more than one waterfall, so tourists can explore them all after visiting Setawing. In terms of accessibility, it is considered easy to get to the site as tourists only need to follow the direction. Plus, the location is near to Jonggrangan Market! Tourists only need to ask for direction from villagers there.
The Nuance
When it comes to the nuance, Setawing Waterfall looks both majestic and peaceful. The location is in the midst of a forest, so it offers a refreshing ambiance as well. Many tall trees grow nearby and tourists can even find some beautiful flowers on the site! In terms of water discharge, it is considered strong. In fact, it becomes stronger and looks more amusing during the rainy season. This explains why many people come at the time to witness such greatness. What about the height? This one has the height of approximately 45 meters and has a wide contour. The good thing is the locals have built stairs in order to access the location easily!
Exploring Setawing Waterfall
Tourists have a different reason for visiting Setawing Waterfall, but all of them are likely to enjoy relaxation. They take advantage of the nuance to eradicate stresses and find peace during holidays. The good thing is the site also provides several benches and gazebos on where visitors can relax! Another impressive feature is the presence of sturdy stairs built by villagers. That means everyone can reach the location without hassles even for those who never conduct trekking before.
The next reason for visiting Setawing Waterfall is definitely the fun of the trip itself. From Yogyakarta City, tourists should drop by at local eateries located at Godean Street. It is also recommended to buy some eel chips and bottled water as the supplies for the adventure later. Another recommended food to try is called Sate Kere, so everyone should not miss the chance to eat it as well. Once arriving at Jonggrangan Market, the real adventure begins! It is the time to conduct trekking to the waterfall through the available route.
Before reaching Setawing Waterfall, in fact, tourists may find several small falls as well. Thus, it is better to drop by at those places first before heading to the prime attraction! They are worth to visit, after all. Do not forget to take photos of those falls too!
Nearby Attractions

Waduk Sermo
Kedung Pedut Waterfall
Lanang Mountain
Tigo Mountain
Purwosari Village
How to Get There
For those coming from Adi Sucipto International Airport, they can directly head to Setawing Waterfall at Menoreh Mountain by local transportation service. For the information, the distance is 34.6 km so the trip may take about 56 minutes. It can even be faster if tourists take Godean Street. Once arriving at Girimulyo Sub-District, tourists only need to reach Jatimulyo Village and get to the site by trekking.
Where to Stay

Miri Sewu Homestay
Gado-Gado BnB