Abadi Sea Turtle Conservation in Kulon Progo Regency, Yogyakarta
---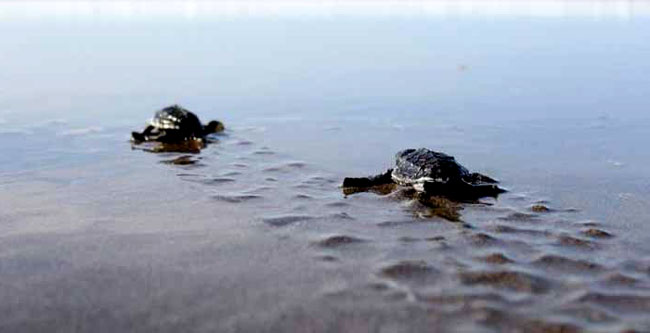 Those who often visit Kulon Progo Regency would be familiar with Trisik Beach. Still, only some of them are aware of the presence of Abadi Sea Turtle Conservation. The location is near to the beach, actually. To be exact, it resides in Banaran Village and belongs to Galur Sub-District. As people may expect, the site is used to conserve local sea turtles and their eggs. It also protects them from predators and any issues that may decrease their number. The good thing is tourists are allowed to visit the site and even learn how to conserve the eggs and small sea turtles.
The Nuance
Abadi Sea Turtle Conservation doesn't feature sophisticated facilities. That means the keepers manage the site naturally by taking advantage of the beach contour. In terms of nuance, it is indeed similar to Trisik Beach as the location is close to each other. As for the species, most of them are green sea turtles! Usually, they come ashore to lay eggs between June and August. Thus, tourists should come in such perfect time if they want to watch the process directly. Later, the management takes those eggs and keeps them in a safer and better place (in order to save it from predators).
Exploring Abadi Sea Turtle Conservation
Once arriving at Abadi Sea Turtle Conservation, tourists should first meet the keeper in order to get information regarding the history and rules. It is said that the site was able to find up to 17 nests and preserve hundreds of eggs back then. However, the number decreased as the time went by due to various reasons. According to the keeper, these eggs are collected mainly from the shoreline. Still, they also collect those from other places like under coconut trees! They even buy these from illegal hunters at a certain price.
After learning some information and history related to Abadi Sea Turtle Conservation, tourists can directly visit the basecamp and watch those conserved eggs directly. If they are lucky enough, they may see the hatching process on the site. The babies are kept until they reach a certain age, actually. Later, the keeper releases them to the sea in a careful manner. This procession is somehow dramatic!
It is true visitors are allowed to take photos of the procession, but they must not disturb the work of the keeper while doing so. Later, before going home, they can directly head to the nearby beach (Trisik) and enjoy water sports like swimming and snorkeling. The location is quite near, after all.
Nearby Attractions

Trisik Beach
Baru Beach
Pandan Segegek
How to Get There
The distance between Adisucipto International Airport and Abadi Sea Turtle conservation is 42 km. That means tourists may spend about 58 minutes to get to the site. Here is the tip. They must take Srandakan Street for a faster and more convenient trip. Their first destination is Galur Sub-District. Next, they can simply head to Banaran Village where the conservation resides. Actually, they can also drop by at Trisik Beach first.
Where to Stay

Pendopo Goa Cemara
Puri Brata