Traditional Foods of Wonogiri Regency in Central Java Province
---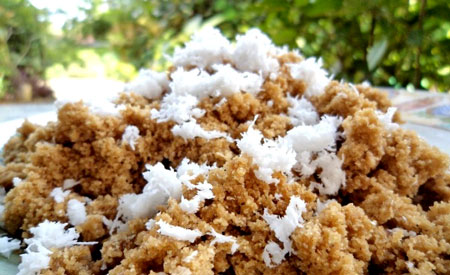 When visiting Wonogiri Regency, most tourists may spend most of their time to explore famous vacation spots and watch some traditional events. However, they should not forget to enjoy traditional foods later. It is because Wonogiri offers several foods that tourists won't find in other places. Thus, everyone should not miss the chance to try several unique foods like Bakso Beranak, Pecel Mie Pentil, Pindang Petis Kambing, Ayam Panggang, and Nasi Tiwul. All of them have a distinct taste and unique presentation. The question is where tourists should get them!
Where to Get the Foods
Simply speaking, tourists can get traditional foods of Wonogiri Regency by visiting the region. Usually, they may order the foods at the hotel where they stay. It is a simple idea, indeed. However, it costs more than they may expect! As an alternative, they must spend some time and look for local food stands out there. Have no worries. The region has many places to get the best foods at the most affordable prices! Another benefit is tourists are able to meddle with the locals while eating. This atmosphere is worth more than money, no?
Enjoying Wonogiri Traditional Foods
The first famous traditional food that tourists can enjoy in Wonogiri Regency is called Bakso Beranak. In a nutshell, it is the meatball soup. The unique part is that the meatballs come with a big size. If tourists cut them, they may find smaller meatballs inside those big ones. Well, "Beranak" means laboring, after all. As for the taste, it is both savory and spicy. Not to mention the soup is warm and delicious! Another good thing is the price is quite affordable!
When visiting Wonogiri Regency, everyone should not miss to try Pindang Petis Kambing. The prime ingredient is lamb and pindang. Not only the lamb and fish taste great, but the spices combine well and create a unique satisfaction. The next choice is called Pecel Mie Pentil. This one has the main ingredient of local noodle. Not to mention it includes the peanut dressing, which tastes both sweet and spicy. The problem is tourists won't find many sellers of this food. Thus, it takes some efforts to get one.
The next famous traditional food in Wonogiri Regency is called Nasi Tiwul. Well, perhaps it is the most popular one as compared to others. The main ingredient is cassava and it tastes sweet! The locals even eat it daily! Another recommended food is called Ayam Panggang or Wonogiri Grilled Chicken. It tastes a little bit sweet, but it also comes with spicy and savory sensation. Plus, the chicken is quite tender!
Nearby Attractions

Puncak Gunungasem
Taman Wisata Tunggangan
Watu Gowok
Sejati Hill
Jatiroto Monument
Wisata Omah Kayu GGI
Watu Wayang
Embung Bercak
How to Get There
It is easy to get to Wonogiri Regency. For those coming from Semarang City, they can either take a private vehicle or public transportation service to Wonogiri right away. The best route is Semarang – Solo Highway, actually. For the information, the distance is 169 km, so the trip may take around 3 hours and 53 minutes. To find the best place for eating, it is recommended to hire a local guide later.
Where to Stay

Tifa Hotel
Dewi Anita Hotel
Diafan Hotel
Cendrawasih Hotel
Sendang Asri Hotel
Arjuna Randualas Hotel