Kali Mirah Beach in Wonogiri Regency, Central Java Province
---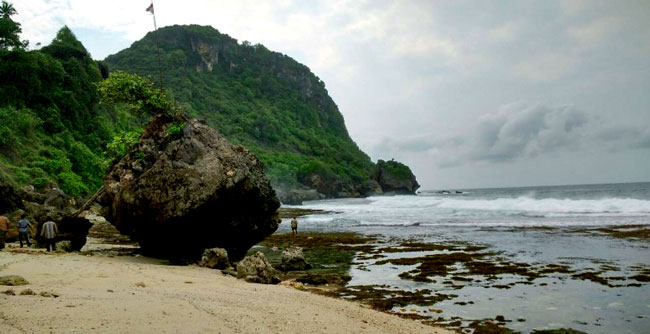 Some tourists may have recognized Wonogiri Regency's tourism potential, especially related to beaches. Some of these beaches are quite famous, in fact! For example, there is Kali Mirah Beach in Paranggupito Sub-District and it resides in Gudangharjo Village. The location is in the south of the village, so tourists need to walk for a while in order to reach the site. Not only the beach offers a majestic sea panorama, but it also becomes a nice place for fishing, camping, sightseeing, and photography. Not to mention it gives an opportunity to visitors for trekking and enjoying an exploration.
The Nuance
The first thing to know is that Kali Mirah Beach is located behind a cliff and hill, so it takes some efforts to reach the location. With that hilly landscape, tourists can enjoy trekking and exploration, therefore. They can even find a spot for camping! The next noticeable feature is related to the shoreline. The length is short but comes with various stunning objects including the white sandy landscape and several coral reefs. As for the waves, they are indeed big (due to the fact that the beach belongs to the Indian Ocean). Another great feature is that the beach comes with several spots for fishing, especially the one located on a cliff by the shore.
Exploring Kali Mirah Beach
Due to the popularity, Kali Mirah Beach has tons of visitors including outsiders and those who live nearby. However, these people have a different motive to visit the beach. The most common one is to meet local fishermen and take photos with them. If they come at the right time, they may see several local boats parked on the shoreline as well. Moreover, regardless of the time, many people are seen on the site including adults and kids. Most of them live in a nearby village, actually. Aside from tourists, the beach also attracts many food and snack vendors who overcrowd the shoreline during weekends.
It is true that photography is a common reason why people come to Kali Mirah Beach. However, people also have other reasons, especially to climb the nearby hill and watch the pristine sea scenery from above. During trekking, they may find several modest resting spots as well. Have no worries. The route is considered easy, so tourists don't need to spend much time to reach the viewing post.
As mentioned before, Kali Mirah Beach is located near to a local settlement (which is Gudangharjo Village). That means tourists should not miss the chance to visit the village and try some local foods there. Have no worries. Villagers are friendly and quite open to outsiders. It gives visitors the chance to learn an Indonesian local culture, too!
Nearby Attractions

Nampu Beach
Puyangan Beach
How to Get There
For those coming from the capital of Central Java Province (Semarang City), they may spend about 3 hours and 46 minutes in order to reach the first checkpoint, which is Wonogiri Regency. The distance is 195 km, after all. From the downtown, it takes another trip in order to reach Kali Mirah Beach at Gudangharjo Village. The distance is 58.2 km, so this trip takes about 1 hour and 55 minutes. As for a faster trip, it is recommended to take Girintontro – Giriwoyo Street though.
Where to Stay

Aji Mantoro Hotel
Green Hotel