Telaga Claket in Wonogiri Regency, Central Java Province
---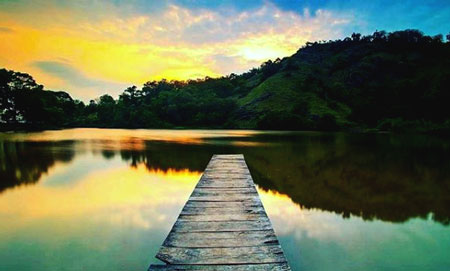 The next recommended vacation spot to visit in Wonogiri Regency is called Telaga Claket. People also call it Claket Lake! The location is in Sendangijo Village and it belongs to Selogiri Sub-District. The lake got the name from the street where it resides, actually. In terms of region, it is located near to Colo Dam! Due to the beauty, many people even equate it to the famous Ranu Kumbolo Lake of Semeru! Another unique aspect is that the lake combines a recreational place and agro-tourism. No wonder, more people are interested in it and they want to explore the lake thoroughly.
The Nuance
When it comes to the nuance, Telaga Claket offers both beautiful and serene atmosphere. The environment is clean and the air is fresh. What a great place for relaxation! The water looks calm, but it is not suitable for swimming (due to the depth). In a specific spot of the lake, tourists may find a small wooden pier too! This place becomes everyone's favorite for sightseeing and relaxation, for sure. On the horizon, the view of green hills with tons of trees is seen clearly!
Exploring Telaga Claket
When it comes to motives, people have a different purpose for visiting Telaga Claket. The locals, for example, often come to the lake to conduct a pre-wedding photo session. They take advantage of the beauty of the lake to take those photos, featuring hills in the background. Aside from that, people come to the lake in order to visit the catfish breeding site! Not to mention they may drop by in a nearby goat farm! Parents can teach their kids about the animals, for sure.
What is next? Many tourists come to Telaga Claket in order to enjoy photography. Thanks to the presence of numerous facilities and ornaments. Visitors can use them to beautify their photos. These include gethek (a simple boat), saung, etc. As an alternative, they can simply visit the pier and take photos there. After exploring the lake and do some fun things, the next recommended thing to do is to eat some foods at available food stands. Many menus are available including Bakso and Mie Ayam!
Another thing that tourists should do in Telaga Claket is none other than fishing! One thing, they must carry their own equipment. Also, it is important to find the right spot for fishing. Have no worries. Some locals are seen on the site, so tourists only need to follow them and enjoy fishing together. They are quite friendly, after all.
Nearby Attractions

Widodaren Hill
Bengawan Solo River
Jenggruk Hill
Alas Kethu
How to Get There
A trip to Wonogiri Regency may spend around 3 hours and 28 minutes if tourists come from Semarang City, as the distance is 169 km. It can be done faster if they take Semarang – Solo Street, actually. Once they get to Wonogiri, they can take Wonogiri – Ngadirojo Street and head to Sendangijo Village at Selogiri Sub-District where the lake is located. The distance is 29.6 km, so this trip takes approximately 1 hour.
Where to Stay

Diafan Hotel
Cenderawasih Hotel
Tifa Hotel
Dewi Anita Hotel