Klothok Beach in Wonogiri Regency, Central Java Province
---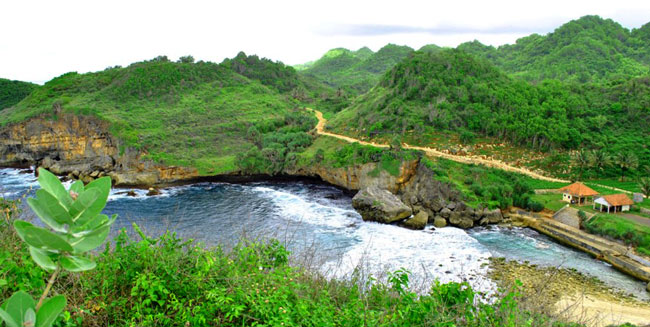 Not all people have ever visited Wonogiri Regency, but they are indeed interested in visiting it sometimes. One of the region's main allures is none other than the natural attractions, especially beaches. For example, tourists may find Klothok Beach in Paranggupito Sub-District. In terms of popularity, it is inferior to other famous beaches indeed in Indonesia. However, the serenity and beauty of the beach never fail to amuse visitors. Usually, these people may take some photos of the wave breakers and sea scenery. Some of them also take advantage of the peaceful nuance for relaxation, in fact.
The Nuance
When it comes to the nuance, Klothok Beach combines beauty and serenity. It looks calm but alluring. The shoreline is surrounded by two big green hills as well! That means tourists can climb those hills and take better photos up there! Unfortunately, they won't be able to play sand freely on the shoreline due to the presence of wave breakers. As an alternative, they can explore the site and walk on coral landscapes that surround the area. It is even said the local government is planning to build a local fisherman port in that location!
Exploring Klothok Beach
The good thing is Klothok Beach is located near to Sembukan Beach. That means tourists can easily explore two beaches without spending too much time and efforts. Moreover, both of them offer a similar beauty and nuance. Still, Klothok is a little bit rockier than its sibling. That means everyone should wear comfy footwear if they decide to go beach walking once arriving at the site. Also, the area is considered vast so they should not get too far while doing exploration. As an alternative, they can go with a local guide who knows the area better.
The next thing that tourists can enjoy in Klothok Beach is photography. As mentioned before, the beach's main feature is the wave breakers located in the midst of the shoreline. These natural borders prevent big waves from coming near to the land, actually. Not only they are functional, but they also become a perfect object for photography. Tourists also have the chance to take selfies in front of those wave breakers!
Another recommended thing to do in Klothok Beach is trekking. The fact is the beach is surrounded by green hills where people can enjoy hiking or trekking. The views are even better from up there! What tourists need is only a good stamina in order to reach the best spot for sightseeing. Have no worries. Some modest gazebos reside on those hills, so everyone can take a rest for a while before continuing the adventure.
Nearby Attractions

Kali Mirah Beach
Puyangan Beach
How to Get There
The distance between Semarang City and Wonogiri Regency is 195 km. That means the trip may take around 3 hours and 46 minutes. It can even be faster if tourists take Semarang – Solo Highway. Once they arrive at Wonogiri, their next destination is Paranggupito Sub-District and they can visit the beach right away. The distance is 57 km, so this trip takes about 1 hour and 49 minutes. As for the best route, it is Giritontro – Giriwoyo Street.
Where to Stay

Aji Mantoro Hotel
Green Hotel