Omah Jungkir in Wonogiri Regency, Central Java Province
---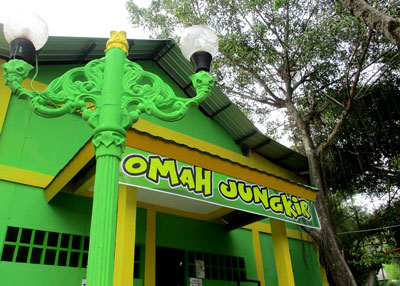 A famous vacation spot resides in Wonogiri Regency, which is called Omah Jungkir. The location is in Sendang Village and it has been visited by local teenagers and outsiders over time. In terms of name, "Omah" means a house and "Jungkir" means upside down. As the name suggests, tourists may find a house with inversed furniture in its rooms. No wonder, visitors take advantage of that unique site to enjoy photography. Mostly, the visitors are young people or those who are into unique photos. It becomes a new experience for most of the people, after all.
The Nuance
One of the reasons why Omah Jungkir popular is that it is located near to Waduk Gajah Mungkur. Still, the house itself is unique as it features inversed furniture. That means visitors may see an upside-down kitchen, living room, bedroom, etc. In terms of concept, it is similar to that of Bandung's Upside Down World. For the information, the house features 4 spots to take photos including the bathroom, living room, kitchen, and a food stand. The thing is tourists are not allowed to take any items there. Plus, everyone needs to take care of the environment during the visit.
Exploring Omah Jungkir
Even though tourists need to pay some money to enter Omah Jungkir, they won't regret it at all. It is because they can get a new experience and collect unique photos while exploring the house. The first spot to explore is none other than the living room. They may find several items like laptop, wall clock, chessboard, paintings, dolls, vase, and mats there. All of these items are glued to the wall with a different angle.
The next spot to explore is the kitchen where tourists can find numerous utensils including a refrigerator, pan, stove, etc. All of them are inverted, so everyone can take interesting photos there. Do not forget to enter the bathroom spot, too. As people may suggest, they may find several items like a closet, buckets, towels, etc. The thing is the bathroom has a small size, so tourists need to queue if there are many visitors to the house.
Another interesting spot to visit is indeed the food stand where tourists can find a food cart and several local dishes like bakso, mie ayam, and numerous sauces. One thing, those foods are imitations so visitors are not able to eat them. The only consideration is that visitors must carry a camera when visiting Omah Jungkir. They won't miss the chance to take good photos during the visit, no?
Nearby Attractions

Tombo Galau Park
Gajah Mungkur Zoo
Gajah Mungkur Water Boom
How to Get There
From Semarang City, a trip to Wonogiri Regency may take around 3 hours and 25 minutes as the distance is 169 km. Have no worries. It becomes faster if tourists take Semarang – Solo Highway. Once they arrive at Wonogiri, they only need to reach Sendang Village where Omah Jungkir is located. The distance is 23.5 km, so this trip takes about 49 minutes to get there. As for the best route, it is recommended to take Raya Pracimantoro – Wonogiri Street.
Where to Stay