Gajah Mungkur Mini Zoo in Wonogiri Regency, Central Java Province
---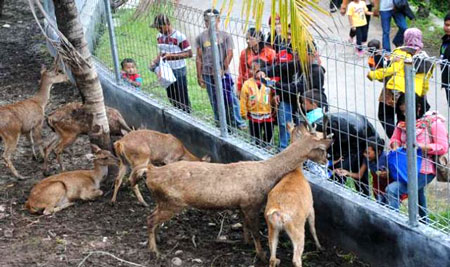 Gajah Mungkur Reservoir has been chosen as the prime vacation spot in Wonogiri Regency. No wonder, more people keep coming to the site in order to witness the grand size of the water reservoir. The good thing is the site also offers other famous vacation sites, including Gajah Mungkur Mini Zoo! The location is in Wuryorejo Village and it offers several exotic animals to visitors. Despite the small size, the zoo is good enough to satisfy local families who want to spend recreation with their family members. Actually, the location is suitable too for photography and sightseeing!
The Nuance
As the name suggests, Gajah Mungkur Mini Zoo doesn't have a big size. However, it offers various animals especially local elephants of Indonesia. Visitors can also see other animals like crocodiles, monkeys, deer, peacocks, snakes, turkeys, and many others! Thus, parents can take advantage of the zoo in order to introduce their kids to the variety of animals. If they come at the right time, in fact, they may see the keepers riding an elephant in the water. Sometimes, those elephants may spray water from their trunk! What a great moment to capture with a camera!
Exploring Gajah Mungkur Mini Zoo
Perhaps the most famous animal that tourists can see in Gajah Mungkur Mini Zoo is the family of Rusa Tutul or Axis-Axis. Even though there are only 4 of them, they look fabulous and cute! Most tourists even use their camera and take some photos of those animals. The good thing is the mini zoo also has other collections of animals, as mentioned above. According to the keepers, most of those animals were brought in from Gembira Loka Zoo of Yogyakarta Special Region.
Well, if tourists want a merrier nuance, they must visit Gajah Mungkur Mini Zoo at the right time. It is said the best time is during the fasting month. In fact, the number of visitors may reach approximately 1000 people each day! The question is what people may do once they arrive at the site. Well, commonly, visitors would simply explore the cages and watch any available animals there. The good thing is tourists are allowed to take photos of those animals. It is a little bit disappointing that they are not allowed to feed the animals, though.
At special occasions, visitors have the chance to see baby animals directly. However, it is a rare opportunity so everyone needs the luck to get such experience. Have no worries. As an alternative, they can simply visit the pond and witness elephants taking a bath along with their trainers. What a wonderful sight!
Nearby Attractions

Gajah Mungkur Water Boom
Omah Jungkir
Tombo Galau Park
How to Get There
For those coming from Semarang City (the capital of Central Java Province), they need to spend about 3 hours and 40 minutes to get to Wonogiri Regency. It is because the distance is 176 km. However, the trip becomes faster if they tourists take Semarang – Surakarta Street. Later, after arriving at Wonogiri, they can simply reach Wuryorejo Village by taking Raya Pracimantoro – Wonogiri Street. The distance is 23.3 km, so the trip may take around 47 minutes.
Where to Stay