Pringjono Beach in Wonogiri Regency, Central Java Province
---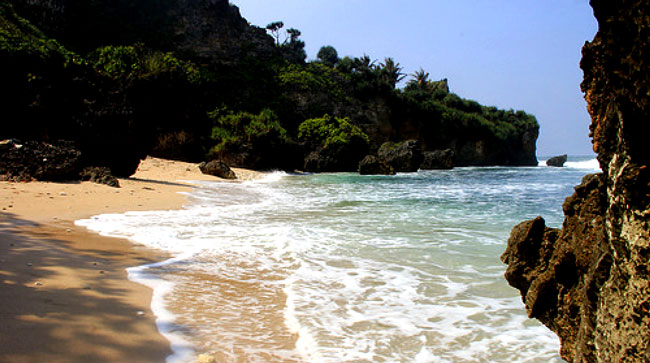 If tourists explore a beautiful region like Wonogiri Regency, they may find many beautiful beaches including the one called Pringjono Beach. The location is in Gunturharjo Village and it belongs to Paranggupito Sub-District. However, some parts of the beach belong to Gunungkidul Regency. This explains why tourists have several ways to access the beach. No one knows the exact meaning of the beach's name. Still, some people relate it to the presence of many bamboo trees back then in that location. "Pring" means bamboo, after all. Unfortunately, no bamboo trees are left in that area. What tourists can find are the stunning shoreline and its peaceful nuance.
The Nuance
Once arriving at the location, tourists may see a short shoreline right away (having the length of about 100 meters). Not to mention it is surrounded by two big cliffs. In terms of nuance, it feels secluded and quiet. This explains why many visitors consider it a private beach due to the serenity. The next noticeable feature is the presence of many stones and coral reefs on the shoreline. As for the sand, it is soft and white. In the horizon, tourists may see big waves as well!
Exploring Pringjono Beach
It is because Pringjono Beach is considered small and secluded, so it doesn't have a good popularity. It becomes a good place for lessening or eradicating stresses, though (especially for those who live in a big city). Once arriving at the location, tourists may see a white soft-textured shoreline right away. The thing is several stones and big coral reefs reside on the shoreline, as well. Thus, everyone should be careful if they decide to go barefoot during beach walking.
The next common thing to do in Pringjono Baech is to take photos on the site. That means tourists are allowed to carry and use a camera freely. What they need to consider is only the weather. Also, it is important to choose the right spots to take those photos. They can choose either by the shoreline or near to the coral reefs, actually. Have no worries. Even the sea is suitable enough to be the background for photography.
Pringjono Beach is known for its serenity typical Indonesia. No wonder, it has been chosen as a recommended destination for lessening. The soothing nuance welcomes everyone directly and the breezy wind rejuvenates mind instantly! What a great place to spend a holiday! Somehow, it is suitable for a family recreation too! People should roll out a mat and conduct eating together by the shore.
Nearby Attractions

Puyangan Beach
Nampu Beach
Kembang Cave
Padas Beach
How to Get There
Tourists need to get to Wonogiri Regency first before heading to Pringjono Beach. If they come from Semarang City, they may take about 3 hours and 46 minutes as the distance is 195 km. Have no worries. This trip becomes faster if they take Semarang – Solo Highway. Once arriving at Wonogiri Regency, their next destination is Gunturharjo Village where the beach is located. The distance is 61.2 km, so this trip takes about 1 hour and 58 minutes.
Where to Stay