Danalaya Nature Preserve in Wonogiri Regency, Central Java Province
---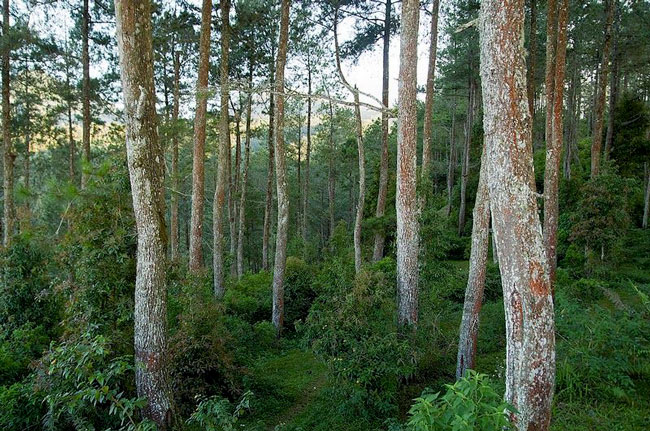 Those who have visited Wonogiri Regency may have heard about Bukit Suwondo Pine Forest. Well, another good site is available for them to explore and the name is Danalaya Nature Preserve. The location is in Watusomo Village and it belongs to Slogohimo Sub-District. Instead of consisting of pine trees, this area is dominated by teak! According to the locals, only the King of Surakarta is allowed to give an order to cultivate the teak woods. The purpose is definitely to rebuild the Palace or Kraton. In terms of tourism, though, the site keeps attracting nature lovers and those who want to spend a holiday in nature.
The Nuance
In some occasions, some students and their teachers are seen in Danalaya Nature Preserve. They perform a regular outdoor activity in that area, after all. As for tourists, they are also allowed to explore the site as long as they get the permission first. What about the nuance? As mentioned before, what tourists may see is the formation of teak trees. The landscape is comfy enough to build a tent and conduct trekking, actually. What is more?
Exploring Danalaya Nature Preserve
As mentioned before, Danalaya Nature Preserve is dominated by teak trees. Unlike other nature preserves, this one features giant trees and a soothing atmosphere. This explains why the site is suitable for relaxation and finding peace. Another specialty is that the teak woods are only meant for Surakarta Palace. That means the locals are not allowed to illegally cut down those trees. It is because the quality of those woods is considered the best compared to others.
So, what can tourists do in Danalaya Nature Preserve? Well, it is as simple as relaxation. They only need to spend some time in the forest and enjoy the soothing nuance. The atmosphere is peaceful enough to eradicate stresses, actually. The next recommended thing to do is to conduct outbound activities. The thing is tourists should not expect many outbound facilities in that area. Instead, they should build those on their own. The only consideration is that everyone should take care of the environment during the activities.
Another thing that tourists often do in Danalaya Nature Preserve is camping. They may look for the best spot to build the tent and spend the night either with their friends or families in that area. Once again, no one is allowed to litter. Also, it is important to get the permission from the keepers first before building the tent.
Nearby Attractions

Claket Waterfall
Ngendak Waterfall
Brojo Mountain
How to Get There
A trip to Wonogiri Regency may take around 3 hours and 53 minutes if tourists come from Semarang City. Well, the distance is 169 km, after all. For a faster trip, they can take Semarang -Solo Highway. Once arriving at Wonogiri, they only need to reach Watusomo Village at Slogohimo Sub-District. This time, the trip may take about 47 minutes only as the distance is 27.4 km. They must make sure to take Wonogiri – Purwantoro Street for a faster trip, though.
Where to Stay

Arjuna Ngendak Hotel
Merista Hotel