Sengon Dam in Wonogiri Regency, Central Java Province
---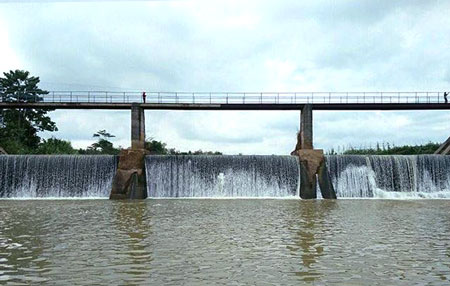 It is true that Waduk Gajah Mungkur has become the best vacation spot in Wonogiri Regency. Still, tourists can also find other interesting spots to explore including Sengon Dam or Cinta Dam. The location is in Sengon Village and it belongs to Sidoharjo Sub-District, actually. Aside from the main function (which is to store water), the dam has become a new vacation spot in Wonogiri. It is because the panorama is good enough to enjoy sightseeing and photography. Not to mention the atmosphere is suitable for relaxation and eradicating stresses.
The Nuance
Sengon Dam is named after the location, without a doubt. Well, people also call it Cinta Dam due to the presence of many lovers who often spend the afternoon in that area. "Cinta" means love, actually. In terms of size, the dame is considered moderate and it indeed features a bridge and is built across the river. The nuance is peaceful, as it is surrounded by local farms and several trees. Another feature that tourists may find in that location is definitely a local Warung or food stand that belongs to Mbok Jem. Thus, visitors can get some foods and drinks easily during the visit later.
Exploring Sengon Dam
Some tourists may wonder what they can do in Sengon Dam. Even though the site is not as popular as Waduk Gajah Mungkur, it offers a nice nuance for relaxation. No wonder, many locals often come to the location to hang out with friends or families in the afternoon. Visitors are also impressed by the beautiful views in that area. Therefore, everyone should not forget to bring a camera and take some photos later during the visit.
The next common thing to do in Sengon Dam is to enjoy fishing. One thing, tourists should have prepared the fishing rod and other equipment as they won't find any rental service in that location. Also, it is important to find the best spot for fishing if they want to get more fishes. Here is the tip. They can join the locals who often come to the dam for fishing. Not only they have the experience, but they also have the information regarding the best spots for fishing.
When it comes to the best time to visit Sengon Dam, it is likely in the afternoon. Thanks to the serene atmosphere, visitors are able to eradicate stresses and get rid of boredom at the time. Here is another tip. Visitors should carry some money, as they are likely to buy some foods and drinks in the available food stand later.
Nearby Attractions

Waduk Gajah Mungkur
Kelir Mountain
Sejati Hill
How to Get There
The first destination is Wonogiri Regency. If tourists come from Semarang City, they need to spend about 3 hours and 52 minutes to get to Wonogiri. It is because the distance is 161 km, but the trip becomes faster if tourists take Semarang – Solo Highway. Once they arrive at Wonogiri, they can simply head to Sengon Village at Sidoharjo Sub-District where the dam resides. Have no worries. The distance is only 1.5 km, so the trip takes about 5 minutes.
Where to Stay