Giri Krida Bakti Square in Wonogiri Regency, Central Java Province
---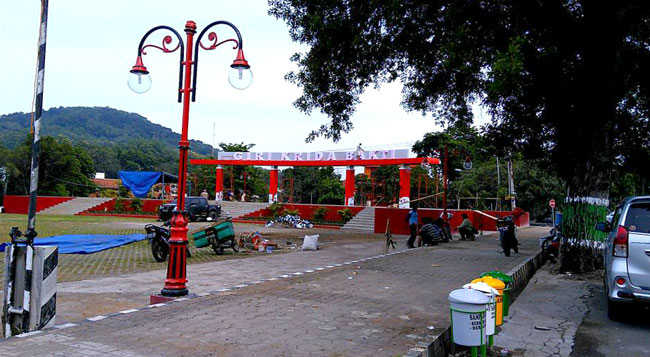 In every city, there must be a place to relax located in the downtown. It is none other than a square or Alun-Alun, actually. That means Wonogiri Regency is not an exception, as it has Giri Krida Bakti Square. The location is in Giripurwo Village and it resides in Kabupaten Street. As people may expect, the square offers a comfy environment to visitors so it is suitable for relaxation and spending a family recreation during weekends. The most crowded time perhaps is in the afternoon, when many locals gather in the square after works.
The Nuance
Well, in terms of nuance, Giri Krida Bakti Square looks clean and comfy. Visitors won't even find any trash in that area! The square indeed features a field in the midst of it and several benches located on some spots. In the north part of the square, tourists may also find a big stage with several ornaments. In the west part, a gazebo resides where visitors can use for relaxation. If tourists come in the afternoon, they may find several food vendors who sell various snacks, foods, and drinks! It is definitely soothing to spend some time in the square, no?
Exploring Giri Krida Bakti Square
Most people come to Giri Krida Bakti Square for relaxation. Usually, they visit the site in the afternoon after works or during weekends. No wonder, most visitors are local families or those who live near to the square. Aside from relaxation, actually, these people are likely to conduct a family recreation and bond with their family members during holidays. Thanks to the presence of gazebos and benches. The site offers more comfort to everyone.
The next common reason to visit Giri Krida Bakti Square is to enjoy casual sports like jogging. It is because visitors can find a jogging track in that area! Also, due to the presence of paved landscapes, they can also do other sports like yoga and badminton. If they come in the afternoon, actually, they may see many food vendors who offer delicious snacks to visitors. The most popular menus are Bakso Bakar and Tempe Penyet! So, everyone should carry extra cash when visiting the square later.
During weekends and holidays, visitors can even use available facilities and rides in Giri Krida Bakti Square. They must pay the rent fee first, though. Also, during special events, the management often conducts a performance on the available stage. Thus, tourists should get the exact schedules of those performances before visiting the square!
Nearby Attractions

Plinteng Semar Park
Ekodayawilaga Monument
Gandul Mountain
How to Get There
From Semarang City, tourists may spend about 3 hours and 52 minutes to get to Wonogiri Regency. It is because the distance is 161 km, but the trip becomes faster if they take Semarang – Solo Highway. After arriving at Wonogiri Regency, they only need to visit Kabupaten Street at Giripurwo Village where the square resides. The distance is 20.2 km, so the trip may take around 43 minutes. As for the best route, it is Wonogiri – Ngadirojo Street.
Where to Stay

Tifa Hotel
Diafan Hotel
Cendrawasih Hotel
Dewi Anita Hotel