Embung Doho in Wonogiri Regency, Central Java Province
---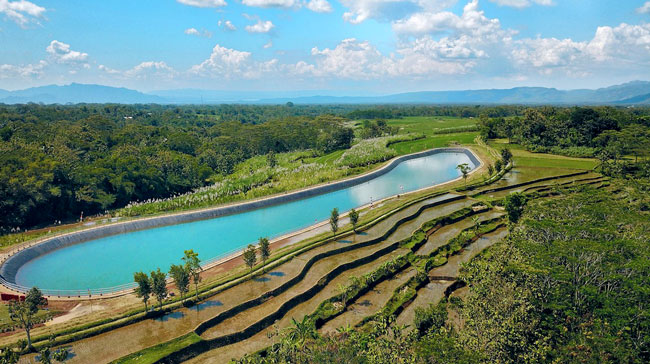 Even though Embung Doho is not as popular as Waduk Gajah Mungkur, it still becomes a good vacation spot for those who are visiting Wonogiri Regency. After all, visitors can spend a peaceful holiday in that area and conduct a family recreation too. As the name suggests, this water reservoir is located in Doho Village and it belongs to Girimarto Sub-District. In the past, the site was a dry and barren. Thanks to the local government. It becomes a significant water supply, which is useful for irrigation and becomes a new vacation destination in Wonogiri.
The Nuance
The location is in Doho Village, so it has become the part of the village for years. Also, it resides in a highland so the site offers a cool and comfy atmosphere. Tourists can even find various types of plants and trees in that area. In front of the water reservoir, a big red name sign "Embung Doho" resides. Visitors usually take photos in front of that sign, too. The only disappointment is that the site has a low number of visitors due to the unpopularity. After all, it has a smaller size than Waduk Gajah Mungkur. Still, no one would regret visiting Doho Water Reservoir!
Exploring Embung Doho
Well, there is not much thing to do in Embung Doho since it is not as popular as Waduk Gajah Mungkur. However, the serenity is considered satisfying so the site is suitable for relaxation or lessening. Also, visitors can learn a little bit of history regarding the construction of the water reservoir. It is said many companies involved in funding the construction, including a big company like Coca-Cola.
It is true the purpose was to store water and provides ample water to nearby villagers. However, these days, Embung Doho has become a new vacation site for tourists to visit in Wonogiri Regency. So, what about the tourist activities? It is as simple as photography. That means visitors may sit by the water reservoir and collect some photos there. They can also explore the site for more interesting photos. One thing, it must be done during a good weather. Otherwise, the rain may ruin the photos.
The next thing that tourists can do in Embung Doho is to enjoy the nuance. In this case, they must come at the perfect time (which is either in the morning or afternoon). It is because the nuance feels the best at those times. Well, even though tourists are allowed to carry foods and eat them on the site, they must avoid littering at all cost!
Nearby Attractions

Keron Kidul Monument
Watu Wayang
Sidokriyo Old Market
How to Get There
In order to reach Embung Doho, tourists should get to Wonogiri Regency first. In this case, they may spend about 3 hours and 25 minutes if they come from Semarang City. It is because the distance is 169 km. Have no worries. The trip becomes faster if they take Semarang – Solo Highway. After they reach Wonogiri, their next destination is definitely Doho Village at Girimarto Sub-District. This trip may spend about 23 minutes, as the distance is 12.4 km. Well, they must take Sidoharjo Street for a faster trip, though.
Where to Stay

Merista Raya Hotel
Tifa Hotel