Puyangan Beach in Wonogiri Regency, Central Java Province
---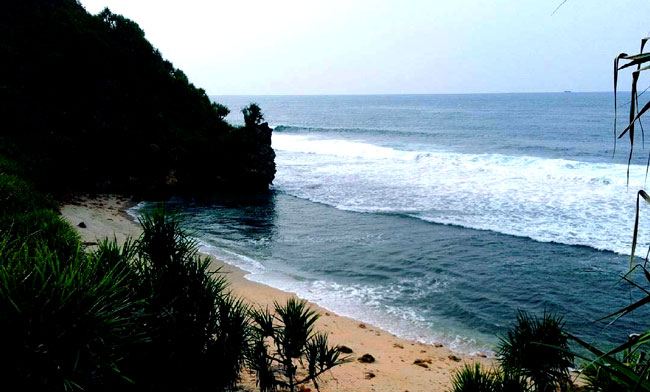 Wonogiri City is part of Central Java Province and it is bordering with East Java Province. Aside from the foods, tourists love to come to the region due to the beautiful beaches actually. For example, there is Puyangan Beach located in Paranggupito Sub-District. To be exact, it resides in Gunturharjo Village and offers a hidden nature to visitors. For the information, it is located in the same area as Nampu Beach and it resides in the west part of Pringjono Beach. Also, tourists can only access it by walking from Nampu Beach (due to the absence of a parking area in Puyangan).
The Nuance
From Nampu Beach, tourists may find a dry footpath that leads to Puyangan Beach. No trees grow around the footpath either, so tourists should wear a cap if they come at noon. Once passing through two hills, they need to go down through a cliff before reaching the beach. The beach comes with a white sandy shoreline, having the length of about 150 meters. Several coral reefs are also seen on that site. The good thing is the beach is surrounded by cliffs and hills, so it offers majestic panoramas. The most noticeable feature perhaps is a bunch of unique trees called "Pandan Laut" or Pandanus Odoriferous. As for the sea, it has big waves!
Exploring Puyangan Beach
For the information, Puyangan Beach is located in the west of Pringjono Beach. Thus, tourists can get to the site either before or after visiting Pringjono. It involves a short trekking in order to reach the location, though. Despite being a burden, it gives a satisfying experience to tourists. They can enjoy beautiful panoramas while walking to the beach. After all, a comfy footpath is available to use. That means everyone can avoid discomfort while trekking.
Here is the fact. Puyangan Beach is surrounded by two cliffs, so it looks secluded. This explains why the nuance feels so serene and comfortable! Due to this fact, visitors can take advantage of the ambiance for relaxation and get rid of stresses. As for the shoreline, it is suitable for beach walking as it comes with the length of about 100 – 200 meters. Plus, many coral reefs reside in that area and they look more beautiful when the waves hit them.
Another reason to visit Puyangan Beach is to enjoy fishing with the locals. Tourists only need to find the best spot for fishing and use the right fishing rod. According to the locals, the best spot is located between big coral reefs in the sea. Many shallow water fishes live in that area, after all. One thing, everyone should carry his own fishing rod!
Nearby Attractions

Nampu Beach
Pringjono Beach
Kwaru Gunturharjo Beach
How to Get There
A trip from Semarang City to Wonogiri City takes approximately 3 hours and 46 minutes, as the distance is 195 km. This can be done faster if tourists take Semarang – Solo Freeway, though. Once tourists arrive at Wonogiri City, they only need to visit Gunturharjo Village at Paranggupito Sub-District and reach Nampu Beach (which takes about 1 hour and 58 minutes). The distance is 61.2 km, after all. From that area, they need to walk for a while to get to Puyangan Beach.