Gajah Mungkur Waterboom in Wonogiri Regency, Central Java Province
---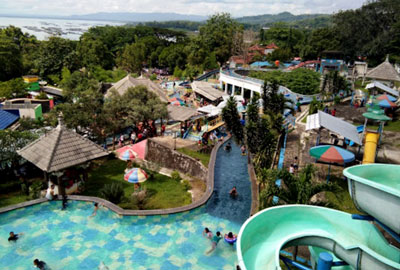 Gajah Mungkur Reservoir, without a doubt, is the most vacation spot in Wonogiri Regency. The fact is it also features several attractions located nearby, including the one called Gajah Mungkur Water Boom. As people may expect, they can play water and swim in that vacation site. So, it becomes a good choice for those who want to spend a family recreation! So, where is it? The water boom is indeed located near to Waduk Gajah Mungkur. The exact location is in Sendang Village, actually. It is true visitors need to pay the entrance fee before entering the water boom. Still, it is worth it, considering the fun and experience that they may get later.
The Nuance
Once entering Gajah Mungkur Water Boom, tourists may find numerous types of water rides and pools. They need to pass through the stairs and a wooden bridge if they want to enjoy the nearby panoramas, though. The good thing is both the kid and adult pool is connected to each other. Aside from that, the site also comes with numerous types and sizes of ornaments including the elephant statue. What is more? The pool is located in a highland, so it applies a rooftop concept with its stunning views. Do not forget the site is also surrounded by many trees and bushes, which makes it more comfortable and soother.
Exploring Gajah Mungkur Water Boom
It is true all tourists may come to Gajah Mungkur Water Boom either to play water or swim in the pond. Still, the site offers more than that. For instance, tourists can enjoy the panorama from up there. As mentioned before, the water boom is located in a highland so it becomes a strategic location for sightseeing and enjoying photography. After all, the background of water rides is good enough to satisfy those who love photography!
The next impressive thing that tourists can take enjoy in Gajah Mungkur Water Boom is definitely the clean environment. The water looks crystal clear and it comes with beautiful ceramic ornaments. Somehow, the pools look luxurious with those features. If tourists come in the morning, in fact, they may feel cooler and more comfortable water!
Once entering the site, tourists may see the stunning elephant statue right away. Plus, several fountains welcome them beautifully. What is more? Gajah Mungkur Water Boom also features several family facilities including swings, gazebos, and kid playground! No wonder, many local families often spend a weekend and holiday there. Despite the fact, many visitors also come from other regions and different provinces in Indonesia. Thanks to the popularity.
Nearby Attractions

Gajah Mungkur Mini Zoo
Omah Jungkir
Tombo Galau Park
How to Get There
If tourists come from Semarang City, they may spend about 3 hours and 40 minutes to reach Wonogiri Regency. The distance is 176 km, but it becomes faster if they take Semarang – Surakarta Street. Once they arrive at Wonogiri, they only need to reach Sendang Village where the water boom resides. The distance is 23.4 km, so the trip may take around 48 minutes. They must take Raya Pracimantoro – Wonogiri Street, for a faster trip though.
Where to Stay