Gajah Mungkur Reservoir in Wonogiri Regency, Central Java Province
---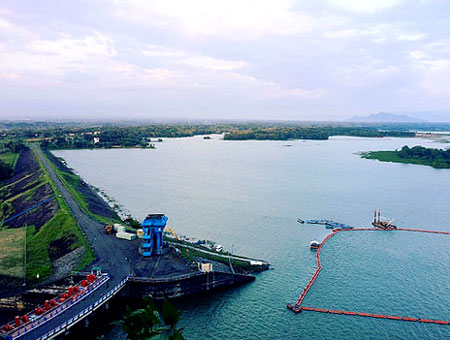 Gajah Mungkur Reservoir has an excellent popularity in Wonogiri Regency and nearby regions. Not only it has significant functions for nearby villagers, but the reservoir also becomes a new vacation spot for those who are visiting Wonogiri. The location is only 6 km apart from the downtown, so it is quite accessible. To be exact, it is located in Pokohkidul Village. The name derives from the presence of nearby Gajah Mungkur Mountains (located in the west of it). The construction began in 1976 and it started functioning in 1982. Actually, the main functions are for irrigation, water supply, and generating electricity.
The Nuance
According to the locals, the total width of Gajah Mungkur Reservoir is 8800 hectares and it belongs to 7 sub-districts! There is even a dam having the height of 40 meters and the length of 830 meters! No wonder, nearby villagers or farmers would be always able to fulfill their needs. Also, knowing the tourism potential of it, the local government provides several facilities to the location. This explains why people can do many things in that area including fishing, photography, sightseeing, and much more!
Exploring Waduk Gajah Mungkur
Being a famous vacation spot in Wonogiri Regency, Gajah Mungkur Reservoir indeed has lots of visitors either from nearby villages or other regions. The thing is tourists have a different purpose for visiting the site. For example, many of them want to ride a boat and explore the reservoir with their families. Not only they can rent the boat, but they can also find other facilities like water bikes, banana boats, and speedboats! Each of them costs differently, though. This is why everyone should carry enough cash when visiting the reservoir.
The next common thing to do in Gajah Mungkur Reservoir is fishing! It is because the reservoir has become the home of various types of fishes including parrot fish, wader pari, tawes, patin jambal, and much more! One thing, only several spots are good enough to catch those fishes. Therefore, tourists should find information regarding those spots from villagers first. Another consideration is related to the equipment. It is better to carry a personal fishing rod in order to avoid hassles. What about the time? According to villagers, it can be either in the morning or afternoon!
The fact is Gajah Mungkur Reservoir also features a water boom! Thus, families with kids should take advantage of it to spend the weekends or holidays. What they need is some money to pay the ticket and use the facilities. As an alternative, they can visit the small zoo located near to the reservoir. Some exotic animals are kept there including crocodiles, monkeys, cassowaries, etc.
Nearby Attractions

Ganthole Bawah
Gajah Mungkur Zoo
Tombo Galau Park
Kedung Areng
How to Get There
For those coming from Semarang City (the capital of Central Java Province), they may need to spend about 3 hours and 28 minutes to reach Wonogiri Regency. The distance is 169 km, after all. After reaching Wonogiri, their next destination is Pokohidul Village. The distance is 25.4 km, so they may spend about 1 hour and 9 minutes to get there. It can be faster if they take Raya Giritontro – Baturetno Street.
Where to Stay

Azana Green Resort
Puri Kamulyan Joglo
Sendang Asri Hotel