Wohkudu Beach in Gunung Kidul Regency, Yogyakarta Special Region
---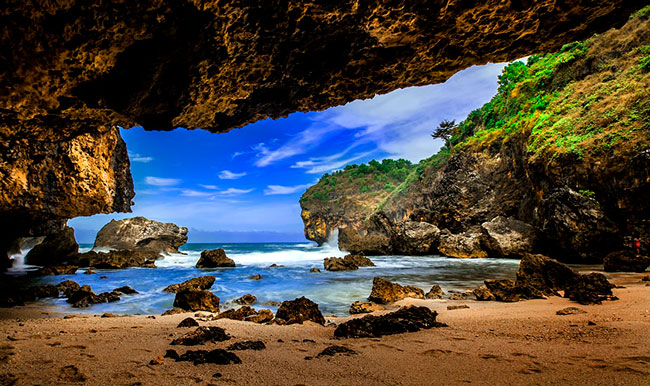 An exploration in Gunung Kidul Regency would be a satisfying experience for all tourists. It is because the region has lots of interesting natural sites for them to explore. When it comes to beaches, Wohkudu Beach is a good choice. This astonishing beach is located in Girikarto Village and belongs to Panggang Sub-District. The location is a little bit secluded, but it offers a perfect nuance for relaxation. This peaceful atmosphere is also suitable for those who want to spend a family recreation. Plus, the beach has lots of features that tourists can enjoy during the visit. Well, here is the further discussion about the beach.
The Nuance
In terms of location, Wohkudu Beach is flanked by two cliffs and hills. No wonder, the beach is considered secluded! Also, it doesn't feature a vast sandy shoreline for beach walking. Instead, the beach has a grassy landscape, which is suitable for relaxation and recreation. Tourists can simply roll out a mat and sit comfortably in that spot. In terms of size, the shoreline is shorter than nearby beaches. As for the nuance, it feels so peaceful! Only the sound of waves can be heard there.
Exploring Wohkudu Beach
The real question is what tourists may do in Wohkudu Beach. Well, usually the locals gather in the beach for fishing. They even have built several huts in some fishing spots! Have no worries. Tourists or visitors are allowed to join the activity later. They only need to talk to the locals and choose the right spot for fishing. The only consideration is related to the equipment. Everyone should carry their fishing rod and other equipment in order to enjoy the activity. Later, at night, tourists can also spend the night by doing camping. It becomes a great time to grill fishes with family members, in fact!
It is true that camping becomes another thing that tourists can enjoy in Wohkudu Beach. Some parts of the shoreline are comfy enough to spend the activity, after all. Not to mention the landscape is vast enough to accommodate some campers. The good thing is that the beach is quite peaceful. The sound of the waves may accompany tourists while camping. It is also allowed to light a bonfire at night and enjoy a BBQ party. One thing, everyone should take care of the trash before going home.
What is more? Wohkudu Beach has shoreline with a length of only 100 meters. Thus, beach walking won't be quite satisfying. As an alternative, tourists can enjoy exploration and see numerous sizes of coral rocks in that area. For those who are lucky enough, they would be able to meet beautiful local birds! Don't forget to carry a camera during the visit, therefore.
Nearby Attractions

Kesirat Beach
Grigak Beach
Kobra Beach
How to Get There
From Soekarno – Hatta International Airport (Jakarta City), tourists can directly head to Adisucipto Airport at Yogyakarta City. This flight usually takes around 1 hour and 10 minutes or less depending on the weather. Once arriving at the airport, the next destination is Gunung Kidul Regency. The best route to take is Nasional III Street and the distance is 44.8 km. That means this trip may take around 1 hour and 9 minutes. From Gunung Kidul, the next destination is Girikarto Village where the beach is located. The distance is 36.6 km, so this trip may take around 1 hour. As for the best route, it is recommended to take Raya Panggang Wonosari.
Where to Stay